The Blacklist Season 4, Episode 11 Review: "The Harem" (No. 102)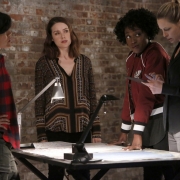 Chris Chalker, Staff Writer
February 2, 2017
This week Elizabeth Keen (Megan Boone) goes from FBI agent to spy. Infiltrating a criminal group of thieves who steal from other criminals. Keen's task is to infiltrate them and find out what they are after on their next heist.
A heads up before I go in depth on this episode: there will be SPOILERS. If you have not watched the Blacklist: season four, episode eleven "The Harem" or do not want it to be spoiled stop reading! You have been warned!
In the event that you missed the previous two episodes, there are articles on both of them, the first one is "Lipet's Seafood Company" (No. 111), and "The Forecaster" (No. 163)
The episode also stars Amir Arison as tech analyst Aram Mojtabai, Harry Lennix as FBI director Harold Cooper, Mozhan Marno as FBI agent Samar Navabi, Diego Klattenhoff as FBI agent Donald Ressler, Hisham Tawfiq as Dembe Zuma, Reddington's right hand man.
Let's get to it.
The FBI wants Liz to go inside the group and infiltrate The Harem to figure out what they are trying to steal. What exactly are they after? Spoiler alert! It's a list of people under witness protection by the government!
Liz meets Red at a money printing business Red had, she flips out and forces everyone to leave before she has Red talk about his case. He talks about the heist for diamonds, stolen by the group called The Harem. The Harem only steals from other criminals. Red's plan is to have Liz infiltrate them to help them get caught. Liz starts the briefing on the case, saying the leader of the group is Margot Rochet. Keen meets Rochet in a hotel, steals some of the diamonds after posing as hotel security and then arranges a meeting. Rochet let's Keen into the Harem after a man lies and voucher for her. Margot kills the man before telling Keen, going under the name Crawford, that loyalty is everything.
Aram reveals the past of the members of the Harem. Margot Rochet is a former federal corrections administrator who has a network of prisoners and guards that trade anything for information, explaining how she figure out about the FBI deal with the man who vouched for Liz. Sasha Lau graduated from Smith in 08, Sasha is the "crime planner" for the group and designs the heists. Jessica Piha is "a chameleon" and she fits well in any social situation, she is however, impulsive and "an adrenaline junkie". Emma Knightly is the only one Aram is having trouble finding anything on. Cooper tells the team that someone on the WITSEC list has died.
Emma and Keen have a talk later that night. Emma says that Keen is a funny drunk, but it was embarrassing, rather… revealing. "Enough to know what you're all about".
Red talks to Cooper and the team about the case. Keen has gone dark and hasn't reached out to them, Red says that she will once she has the trust of The Harem. Red talks to Dembe as he leaves, asking if he has made contact with "Smoll". Dembe says he has called twice and hasn't gotten an answer.
The Harem, with Liz's help, tracks down a man who knows where the WITSEC list is. They play a game with him and the diamonds they stole, which were his. They make him burn his club to the ground and tell then where to find the WITSEC list before leaving him.
Liz learns that Emma works for Red or is at least acquainted with him. Emma is an MI6 agent and that's why her record has been scrubbed and Reddington also reveals that the FBI is not the only government organization he has a deal with. Emma and Keen have a car ride together later after Rochet finds a lead. Emma reveals that she does know who Keen is and that the others don't know who Keen really is. Emma also gets into her past, she's been working with Red for eight years and she was an analyst on low level imitation cases before Red approached her with a deal. Emma earns Keen to leave before things go bad. Keen decides that she she has to help The Harem steal the list so she can get it. The Harem closes in on Helldrich, who has the last known person to have the WITSEC list. The Harem and Keen crash a party and attempt to steal the WITSEC list. After taking the chip from his hand, they prepare to leave. However, Emma steals the chip and escapes, Jessica is shot and killed and Liz is left on her own to escape. Red meets with Emma. Emma is watching her son play soccer and and Emma tells Red she is out and she is done working for him. Emma gives Red the WITSEC list before making the comment "you need to let her (Liz) go". Red reveals the real reason he took the list after giving it to Liz. He too the list to protect Mr. Kaplan' sister, who witnessed a group moving a body from a basement and in exchange for testifying, forfeited the rest of her life because she is on that list. Margot Rochet was arrested and Sasha Lau was picked up. Helldrich was arrested for charges on Jessica Pahi's murder. Reddington learns that Smoll died and was most likely murdered. But by whom?