The Need for New Music and an Exclusive Interview with Brittin Lane
Hang on for a minute...we're trying to find some more stories you might like.
Hey there Weedsport! Have you been in the mood for some new music? The normal artists you listen too aren't doing it for you lately? Well, don't worry! I got you! Here I have listed 15 artists that you may or may not already listen to, and I have an exclusive interview with the artist Brittin Lane at the end of the article!
Let's get started off with the rapper blackbear! Although most of his songs are explicit, blackbear's lyrics are definitely sincere. I listened to his song called "do re mi" and watched his video from the channel Genius on it. To sum it up for you blackbear's song is about an ex-girlfriend that was the absolute worst. Some of the lyrics directly pertains to the truth of the girlfriend. For example when he sings "Of breaking glass on my Range Rover" it relates to the story of when said ex-girlfriend fell asleep in his car while she borrowed it and totaled his rover. The song, in my opinion is a great song and really expresses what it is like to have a bad girlfriend or boyfriend. Check him out!
Next up with have the singer Billie Eilish. Billie is 16 years old and has many great songs. I discovered her recently and I cannot stop listening to her son Copycat! Billie writes all of her songs with her brother, Finneas O'Connell who also has a band of his own called the Slightlys. I also watched Billie's video she did with Genius on her song Copycat. The song is about a girl that keeps copying everything that Billie does and the song was written to basically say back off and just to get some things off of her chest about the girl instead of causing drama. Billie became popular after her single Ocean Eyes became a viral hit. I highly recommend listening to Copycat especially the acoustic version, because it will have you coming back for more!
Now we have artist Faith Marie! Faith Marie is a 20 year old singer/songwriter. Although not as popular as blackbear or Billie, Faith became popular from her youtube channel when she uploaded her music videos. Faith writes a lot about her own personal experiences and expresses them beautifully through her music. My favorite song that she has written is Antidote. The song talks about the way people hide behind their smiles when they aren't doing okay. This song suggests difficulties with paranoia and anxiety. Having struggled with these issues myself I fell in love with this song. I also recommend listening to her song called, "Little Girl." Little Girl, in my opinion, touches upon depression and anxiety and when trying to get help for a mental health situation doesn't work. This song reminds me of slam poetry because of how she performs it. Of course, other people sing and performs the song with that style but with Little Girl, it rang bells for me.
Jasmine Thompson is the definition of a raspy voice singer. She is 17 years old and started uploading videos to youtube when she was just ten years old. Jasmine is a gorgeous singer, she has uploaded many videos to youtube and the first video I heard her sing was the cover was the song Halo by Beyonce. With her music, she expresses her emotions so perfectly. Jasmine has also released some of her own songs. From her ep album Wonderland, my favorite is Old friends. It talks about struggling to talk to new friends about yourself when they don't know you that well. She compares her new friends to her old friends that actually know her better than everyone else. This song is a very sweet and chill song, give it a listen and you will not regret it!
Mario Jose. Where do I start with Mario Jose? Mario really knows how to break down every cover he sings. The first video I heard him sing in was a collaboration with SUPERFRUIT, Brian Justin Crum and Mary Lambert. They sang Rise by Katy and I was literally blown away. His vocals killed it! In one cover of Michael Buble's Feeling Good, he sings very soulfully and has successfully created my favorite rendition of that song.
Brittin Lane, if you aren't already subscribed to her, let me fill you in on this amazing, beautiful very sweet girl. Brittin Lane is a singer/songwriter who started up her career by uploading videos on youtube of her singing. Brittin currently has 6,285 subscribers on youtube and her numbers are rising. Brittin Lane posts covers and original music. Some of the songs she has covered are, I see fire by Ed Sheeran, Dear Happy by Dodie Clark, and City Song by Grace Vanderwaal. Recently Glamour Magazine did a video where Grace Vanderwaal reacted to covers that her fans did on youtube. Brittin was selected for her cover of city song and her reaction to Grace was just so awesome! Brittin has also released a few of her own albums, all great by the way. I particularly fell in love with her original "The Moon Song". This song is so beautiful and it is on a playlist of mine that helps me wind down at night. Now when I stumbled upon her channel a few weeks ago I knew I had to talk to her. I scrolled through various description boxes with no luck until she uploaded a video about viewers sending in ideas for her to write songs about. I found her email and sent her a message with a song idea and the proposal for an interview, and she agreed! When I talked with Brittin she was super nice and responded quicker than I had thought she would. Without further adieu, let's move onto the exclusive interview with Brittin Lane!
Why did you start your YouTube channel?:
I started my channel because I wanted a place where I could create music and art, and ultimately share my work. I was also drawn to the community aspect of it and liked the idea of people with similar interests coming together and supporting one another.
What music genre do you listen to the most and do you have a favorite song at the moment?:
I mostly listen to indie & alternative music. I don't feel like I could pick just one song at the moment because there are so many great songs that I love and have been listening to. But, a few of my favorites would be "Mystery Of Love" by Sufjan Stevens, "Get Free" by Lana Del Rey, and "Places We Won't Walk" by Bruno Major.
What has been the hardest part about recording your music and putting it on YouTube?:
I think the hardest part (but also one of the best parts) has been the journey itself. I've heard many YouTubers tell stories of how they reached a million subscribers within a year or two of being on YouTube, and I began to develop the hope that I would have the same amount of success in the same amount of time. Over 100 videos later, after uploading to YouTube once a week for 2 and a half years now, we just hit 6,000 subscribers. While I'm extremely grateful for every person that has taken the time to watch my videos, it was easy to start feeling discouraged in the past when I felt like the channel was moving at turtle speed compared to other YouTubers. I realize now that everyone's journey is different, and some take longer than others. And I've finally learned to just enjoy the process and focus more on the creating side of it, rather than the numbers and subscriber count.
What is your ultimate goal as a singer?:
My ultimate goal as a singer and as a songwriter is to make the listeners feel something when they hear my music. Whether they feel the same thing I felt when I wrote a certain song, or they're able to relate to it in a completely different and unique way, I just want them to feel deeply.
If you could go back to the start of your YouTube channel what would you do better?:
I would upload consistently, and get better equipment. When I first started uploading, it wasn't consistent at all. I would upload maybe once every few months, and the covers would be pretty awful as far as the quality goes. A microphone and some reverb go a long way, and it took me a while to figure that out. Uploading consistently also took me some time to figure out, but once I made a commitment to upload a new video every Saturday, I noticed a drastic change in the consistency and growth of my channel.
And Finally, What is your favorite part about being a singer on YouTube?:
There have been a lot of blessings that have come with being a singer on YouTube. I get to create what I want to create with no limitations. I get to connect in a more personal and up-close way with my audience and community. On top of that, God has brought some really incredible opportunities from it – I got to sign a record deal after the owner of a record label saw one of my videos. I got to sing and record and song for an international commercial after a director saw my cover of "To Build A Home", and Glamour surprised me when they sent me a video of Grace VanderWaal reacting to my cover of her song, "City Song." None of these things would have happened if I hadn't uploaded a cover to this little corner of the internet three years ago, and I'm excited to see what comes next.
So there we have it! An interview with an amazing singer and new artists for you to listen to! I hope you enjoyed this article and I highly recommend that you check out Brittin's channel! Until next time Weedsport!

About the Writer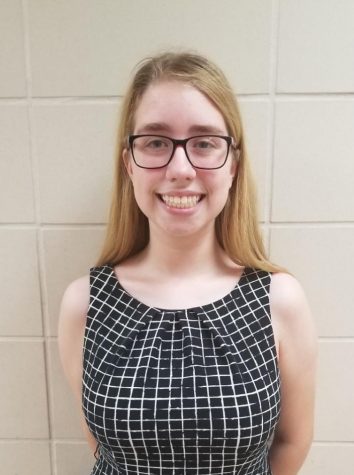 Ann Benson, Staff Member
Ann Benson has written for The Johnny Green since her freshman year in high school. Even though she is now a junior, she is still filled with inspiration...