Is The New iPhone Worth It?
Monty takes a closer look at the 10 X and XS Max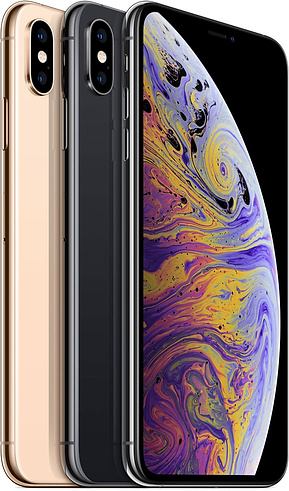 The iPhone XS and the XS Max are either the staple for premium quality and innovation embodied in a smartphone; or simply a mind-boggling prospect as to why anyone would ever spend over 1,400 bucks on one, depending on who you ask. Before I start my article, I'm going to preface this by saying I'm not here to try to change anyone's mind; what I am trying to do is hopefully help you decide whether or not either of these two new phones are right for you.
Here's a brief bit of perspective about how far things have come since the original iPhone released in 2007. The XS Max has over 21 TIMES the resolution of that first iPhone, and it was originally only offered in 4, 8, or 16GB of storage. Today, the base model of the XS packs a comfy 64 gigabytes, with 128, 256, and 512GB variants!
Mobile technology has evolved crazy fast, and with it, so have our expectations. The cut and dry premise of this article is that if you currently have an iPhone X, you could happily and confidently skip this generation, with one exception that I'm going to get to later on. But if you're coming from coming anything older than the 8, or from any android (in my opinion, of course) this gen is a really solid entry to getting the latest and greatest from Apple.
Design-wise, Apple is continuing the iPhone X's design language, in fact, the X and XS are nearly identical to the untrained eye, with the exception of the new optional gold color, and some fancy new antenna bands on the top and bottom of the stainless steel frame to support even faster LTE speeds and improved reception. However, keep in mind that this is an "S" upgrade, which typically (following Apple-suit) have most of the new features and technology present internally. Things start to get a little more obvious externally on the XS Max, but not much. For starters, the behemoth 6.5" display is a dead giveaway that you're rocking the 2018 flagship iPhone. It's an increase from the 5.8" display found on the X and XS, and it's pretty safe to say that it's not going to be the easiest iPhone to hold and navigate in one hand, no matter how large your hands are, so take that into consideration before buying.
Both new iPhones sport a new IP68 water rating, which means you're a lot safer taking your precious new $1000 iPhone for a swim; but just keep in mind, in the event said iPhone breaks from this, you're out of luck. Apple doesn't cover any water-related issues with their new phones so be safe! Or be prepared to shell out even more money to pay for damages if you take that risk. Also, another point in terms of new physical updates that I haven't heard nearly enough people talking about is the fact that even though the X and XS share the same dimensions and width, the new camera on the XS is slightly larger, so if you plan on getting a case for your new phone, or even using your old one; make sure the camera cutout is large enough to compensate for this change. Apple's expensive-yet-beautiful silicone and leather cases are a perfect example of cases that quite literally don't fit the gap, (coincidence, definitely not. Just another sneaky ploy by Apple to get you to shell out another $50 for a new case. Can't say I'm not impressed by their creative ways to get us to spend more money though.)
The new A12 Bionic chip found in both of these new phones basically means that they are ridiculously fast and powerful. (I could give you all of these nerdy numbers and stats, but I'm sure none of you want to read about that, and if you do, check out the included link at the end of this article. My goal is to appeal to an audience of people that just want to know what is better and what has changed.) Anyways, back to the article! The OLED screen is super fresh and one of the best; if not the best, in the smartphone industry right now. Deep blacks, vibrant tones, and rich, punchy colors are all standard in this year's models, much like last year.
Another thing that is also 'much like last year, is Apple's claims of the glass being "the most durable ever found on a smartphone," but personally, I don't buy it. Glass is glass. Glass cracks when exposed to severe force or impacts. Wear a case. The speakers are found in the XS and XS Max are also a significant improvement over their predecessor, and both do still support stereo audio, with one front firing earpiece speaker, and another main downward firing speaker, for nice, crisp audio with heavier bass and clearer sound that you would expect from a phone of this caliber. One new feature involving the XS and XS Max's speakers, and more importantly, their microphones, is their new ability to record in stereo audio, which is something that you most likely don't know you're missing out on until you try it.
Lastly, the main, and possibly only reason you would be genuinely inclined to purchase the XS or XS Max to replace your X, (besides the screen size of the new Max) is without a doubt, the camera(s). Both pack revised dual 12MP wide-angle and telephoto lenses, capable of ƒ/1.8 aperture (wide-angle) and ƒ/2.4 aperture (telephoto,) 2x optical zoom; digital zoom up to 10x, Portrait mode with new advanced bokeh and depth control (Apple) for taking some pretty amazing photos. The front camera also saw slight improvement, at 7 megapixels and the ability to utilize portrait lighting as well as the new depth control feature. (The batteries aren't much to write home about, which is why I skipped over them. Some tests have even shown them to last a shorter amount of time than the X… ouch.)
In conclusion, the 2018 iPhones are an elegant revision to an already innovative and powerful iPhone, and will make the perfect phone for anyone looking to upgrade from their old one. Stay tuned for my iPhone XR article once it gets released and I have some time to play with it!
Link (Apple):
https://www.apple.com/iphone-xs/specs/