Samsung vs. iPhone: What is Weedsport's Favorite Device?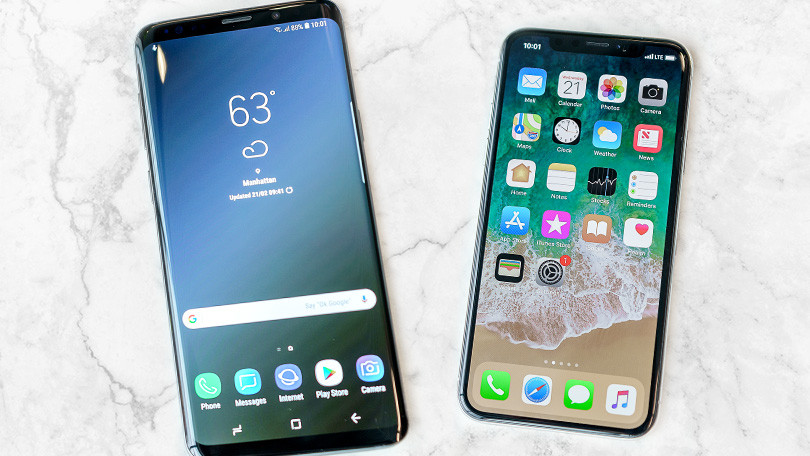 Keyton Burleson, Staff Member
April 4, 2019
The debate between iPhones and Samsung/Android has been ongoing ever since Apple came out with its first phone on April 1st, 1976. People everywhere couldn't decide which company had the better phone. Apple has come out with many devices like the iPad, all the way up to the newest phone, the iPhone X. Samsung has come a long way and just released the Galaxy S9, which has become the best Samsung phone that's been created.
One thing that Apple has to offer that Samsung doesn't have access to, is FaceTime. FaceTime is an app on your iPhone that allows to video call someone from any location. One thing that is shared, other than the concept of a smartphone is a fingerprint scanner to unlock your phone. The fingerprint scanner on an iPhone is on the home button, on a Samsung, it could be on the power button or the home button.
Even the similarities have differences between the two companies. Apple not only makes smartphones, but as we all know, they produce AirPods, Macbooks, and iPads. Samsung has a greater variety of products from smartphones to refrigerators. The competition between the two companies is ongoing and is evergreen.
In Weedsport High School, people everywhere have all kinds of different smartphones. Val Sholes of Weedsport High School shares her opinion, ¨I prefer iPhone over Android. I don't like Samsung because they have ugly emojis and the camera quality isn't that great. I like the look of iPhone, you can't FaceTime on Android devices which I find to be very inconvenient."
Graeden Manna from Weedsport shares his opinion "iPhones feel really premium in hand, and has seamless software with a great ecosystem." iPhone seems to be the main smartphone company here at Weedsport. Everyone has their own personal preference when it comes to phones.