Steve Gilfus Breaks His Dad's Pole Vault Record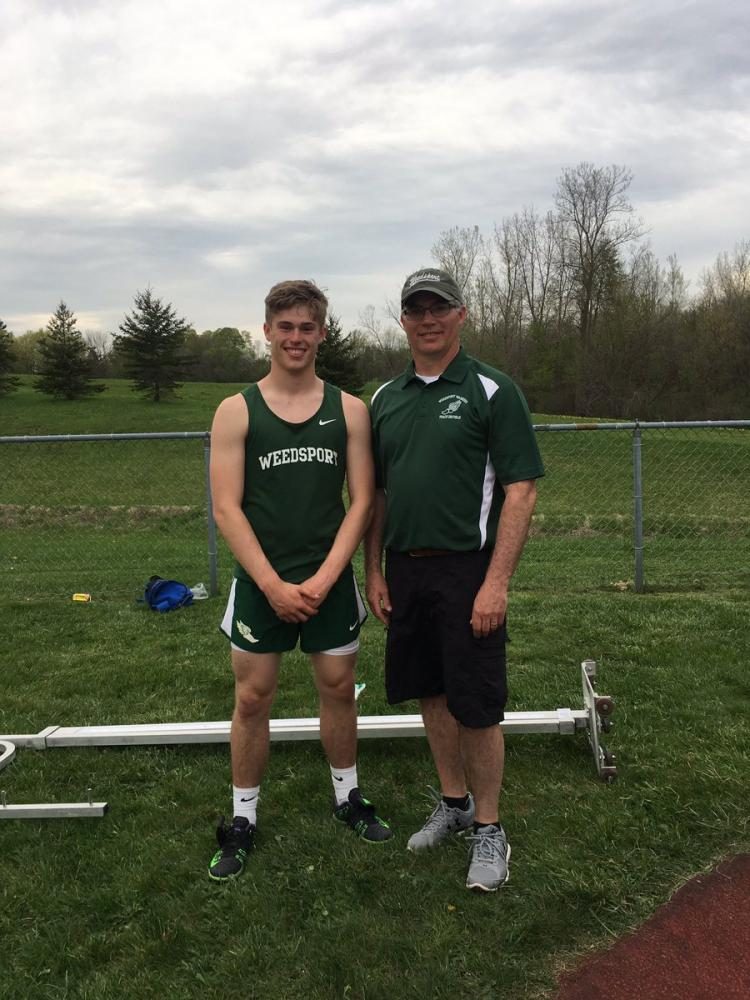 Chris Chalker, Staff Writer
May 1, 2017
Last week, Weedsport Varsity Track and Field athlete Steve Gilfus broke the school's pole vault record during the meet against SAS. The record was, ironically enough, held by his father, Jeff Gilfus. The Johnny Green spoke to both Steve and his dad to get their say on what went down that night.
Q: How did you get into pole vaulting?
Steve: I just really started in eighth grade.
Q: What do you skills do you need to be successful in pole vaulting?
Steve: You just need to be fearless and have core strength.
Q: How did your pole vaulting career start, and how has it progressed?
Steve: Well, it started in eighth grade Varsity Track. I'd say it's progressed quite a bit by doing summer and indoor track last year, and I proved a lot from that.
Q: How was that year of indoor track?
Steve: It was really fun. It was a great experience, and I chose to do it because of the triathlon and pentathlon, and I think it really helped.
Mr. Gilfus: The indoor season was more used for challenging himself in pole vault.
Q: How do you feel about breaking the school record?
Steve: I don't know really. I'm happy. Just happy that I did it finally. I've still got time to put more height on it.
Q: How did it feel seeing Steve break the record?
Mr. Gilfus: I mean, I feel good about it because we're seeing that work he put into it to develop the skills. Pole vault is one of those sports that you have to practice at, and you can't just go and do it. You can have all the natural ability you want, but you still have to practice the skills. You know? With the time and effort I've seen him put into it, he's earned it. So I feel good about it. I felt great. Relieved.
Q: What are you both expecting from this in the future for this season in pole vaulting?
Mr. Gilfus: As his coach, 40 points a meet (for winning the event). As a father, I expect him to keep improving and working on the skills.
Steve: Always looking for a league or sectionals championship.
Q: What has it been like coaching your son?
Mr. Gilfus: We have our ups and downs, sometimes it's frustrating. Sometimes we have to have that discussion that I'm his coach and not his father. I mean he has always been respectful and listened.
Editor's Note: Not only did Steve break the school's and his father's record, his vault marks the ninth highest vault recorded in the state this season. Awesome job Steve. Keep raising that bar!
Editor's Note II: If you want to see video of the record-breaking vault, check out the end of Monday's (May 1) Morning Report in the video section of the Johnny Green.