"Before I Fall": Book Review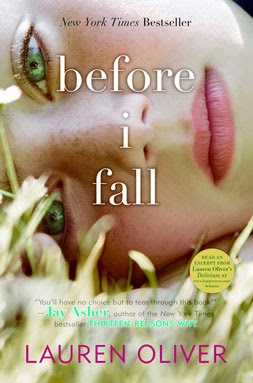 The first time you meet Samantha Kingston, the main character of Before I Fall, you probably won't like her too much. However, by the second or third time you meet her, your opinion might just change. I know that mine certainly did.
What starts out as a seemingly normal day for Sam soon takes an unexpected turn, when she is killed in a car accident, only for her to wake up and relive the day of her death, Friday, February 12, seven more times. During the week only Sam knows that her life is stuck on repeat, everyone else just keeps moving forward, unaware that there is no such thing as tomorrow for Sam.
For so many years it seemed as though Sam had it all. She is popular, has a boyfriend and a tight knit group of lively best friends. But what could happen if she makes different choices — if she gives the boy she has ignored for years a second glance, or reaches out to the outcasts or people less popular than her, or challenges the actions of her best friends who she once went along with? And what will she remember in the final moments before she dies? Sam realizes that she was given the chance to make her own choices and that her life may not be the only one that needs saving.
As the story progresses, characters develop and the plot thickens, and even though we are reading the same day, multiple times, Lauren Oliver manages to keep us engaged with characters that you can't help but love, an exciting plot that keeps you on the edge of your seat and twists that you would never see coming. This book is a refreshing change of pace from most Young Adult novels, because it makes you question everything and keeps you guessing.
This wonderful, thought provoking novel has also been made into a movie, directed by Ry Russo-Young. The characters are brought to life with Zoey Deutch as Samantha Kingston, Halston Sage as Lindsay Edgecombe and Kian Lawley as Rob. (full cast list) The official release date of this movie is March 3rd of this year, and the high school book club will be going to see it, after reading the book. Make sure to stop by the library and talk to Ms. Speer about reading this book with the book club if it sounds interesting to you.
Here's a look at the trailer for the upcoming movie: https://www.youtube.com/watch?v=f5hIJsdIQCc