How To Get Away With Murder: Season Three Finale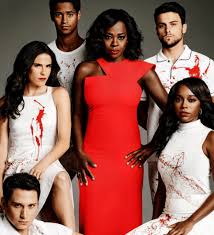 Chris Chalker, Staff Writer
April 12, 2017
Wes' killer is finally revealed… and it is… a major disappointment. How To Get Away With Murder season three comes to a close with the final revelation of the season. Who killed college student Wes Gibbins (Alfred Enoch) in the fire at Professor Annalise Keating's (Viola Davis) home?
Connor and DA Todd Denver
Connor Walsh (Jack Falahee) was last seen at Denver's office, attempting to get Wes' immunity deal. He ended up finding a phone in Denver's desk that had both received and dialed out calls in a sketchy time frame with Wes' body being cremated and his murder.
We now learn that Denver has Connor in a room, handcuffed to a table, he keeps prodding him to take the deal and rat out Annalise and his friends but Connor refuses knowing Denver had some involvement.
Connor finally cracks at the last second, handing over some information he feels is useless to Denver, but he doesn't tell him that.
Laurel, Charles, and Dominic
Laurel Castillo (Karla Souza) leaves with Asher Millstone (Matt McGorry) and Michaela Pratt (Aja Naomi King) and heads to track down Charles Mahoney, who she believes killed Wes. She gets really close to killing Charles but she is stopped when she runs into her friend, Dominic. Michaela and Asher, beforehand, had a little problem. Asher said that he loved Michaela but she didn't return that. Michaela talked to Laurel about it, asking how she knew when she loved Wes. Laurel responds with "when it was too late." Michaela used to flirt with Mahoney and isolate him, but she stops and meets with Laurel and Asher, saying that she does love Asher. Laurel is about to head out and kill Charles with a gun she had hidden in her purse, before Dominic shows up.
Who is Dominic? Dominic is the person who killed Wes that night. Why? That reason is not exactly clear as of now. We know that Dominic injected Wes with something and then suffocated him to death, dragged him into the basement, where Connor found him, and cuts the gas line, Connor finds him, Laurel enters the house, Connor does CPR before Laurel enters the basement after Connor accidentally breaks one of Wes' ribs. Dominic then calls someone as Connor runs away from the house after it explodes, saying "it's done, but it got a little messy."
Resolution
Annalise heads to the broken, burnt down remnants of her house and she finds a photo of her and Sam Keating (Tom Verica), the fire burnt some of the photo.
Annalise then goes to Denver, proposing a deal to him, giving him a fake story that turns Wes' murder into a suicide by fire. Annalise brings up that Wes was someone that suffered from fits of rage, reminding us of when he threatened to kill himself earlier in the series so he was put on suicide watch, reminds us that he was present for his mother, Rose Edmonds murder and was suspected in it. Annalise has to frame him for Sam and Rebecca's murders, saying she is "letting him (Denver) win". Denver rehires Nate and explains this new theory and the evidence (an audio recording of Wes the night of the fire, just moments before he was killed). The audio recording says: "They have evidence, they say they can pin it on you. Sam. Rebecca. All of it… You can't go down for what I did."
Who hired Dominic to kill Wes? That would be Laurel's father. We still don't know why as of yet, but no one really has a clue he was behind it, let alone Dominic's involvement.
Connor meets with Oliver after this and Oliver ends up proposing to him. Connor doesn't answer yet.
Closing scene
Annalise is at an A.A. meeting, she talks about how Wes died and how her real son died. She says that Wes was like her son "because he was my son." Annalise tearfully tells the story and she breaks down.