Some Good Choices for Summer Reading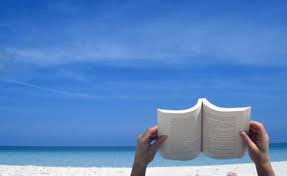 At the end of the school year, most students are getting ready for Regents and final exams, so you have zero time for reading.  But when you take a study break or when Regents and finals are over, you should take the time to read one of these books.
1. Everything, Everything
This book is one of our book club books that we have read this year. I myself have already finished this novel and I thought that it was a very good book.  The writer, Nicola Yoon, is one of the newest writers in teen fiction. This story looks at the idea of what little things can do to a person like the main character Maddy. When she was young, she lost her dad and things were happening and she was diagnosed with immunodeficiency (SCID). This means that she is allergic to basically everything. because her immune system is non-existent.  When Olly moves in next door, she feels like she has to get out and see him. Read the book to find out more. Will she see the world or will she be stuck in a bubble for the rest of her life? If you like this book you might like The Sun is Also a Star.
2.The Rules for Disappearing
     It seems like that this book doesn't get much attention, but it's actually a really good realistic fiction book about a girl named Megan, but we actually don't know her real name because her family is in the witness protection program.  They move from place to place, using different names in each state and different appearances. She has been living in Louisiana for not even a week and she meets a boy, Ethan. She tries to push him away, but it ends up being much worse in the long run when they get kidnapped.  Find out what happens when you read this book. If you like this book you might like the second one The Rules For Breaking.
The Selection
America Singer is low in the caste system in the country Illéa. In her home she is in love with Aspen. But when she is picked for the selection, Maxon is the prince that has to choose between 35 girls and narrows it down from time after time. If they break a rule they are out.  So it isn't entirely up to Maxon to choose.  At the end of this book only a handful remain. It has more twists and turns than you would expect in a book like this.  America is having many mixed emotions.  Read to find out what happens to her.  If you like this book you might like the book Delirium by Lauren Oliver.
4.Thanks for the Trouble
Thanks for the Trouble is told by a boy named Parker Santé.  He doesn't speak, and hasn't for many years. To communicate he uses notebooks.  So far he has used over 100 notebooks to talk to people and create stories. He meets Zelda, with silver hair and young looking.  They get to know each other because Parker almost stole thousands of dollars from her.  He finds out that she is over 200 years old.  Read the story to the very end to find out what happens to both of them. If you like this book you might also like We All Looked Up by Tommy Wallach.
Have a great summer and enjoy!