The Summer Blockbusters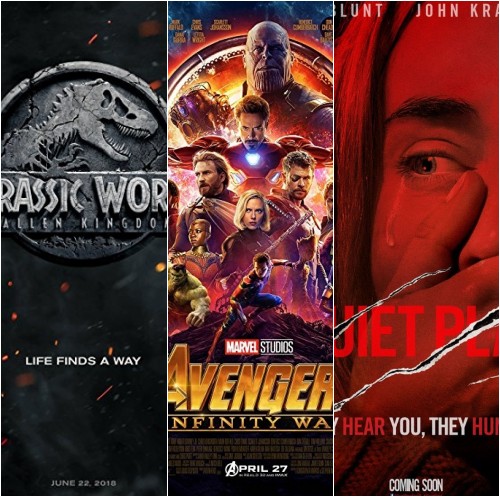 Hang on for a minute...we're trying to find some more stories you might like.
As summer rolls in, many people, especially me are very excited for summer movie season. Many different films are coming out in the next few months that are getting many people excited. Including…
Avengers: Infinity War
Alright, let's get the big one out of the way. The third Avengers movie is directed by the Russo brothers and will be starring EVERY HERO THAT'S EVER BEEN IN THE MARVEL CINEMATIC UNIVERSE. All your favorite heroes will be joining forces to fight the almighty 'Thanos'. Some heroes include Iron Man, Captain America, Spider-Man, and the Guardians of the Galaxy. This is possibly the biggest crossover ever to happen in Hollywood, and I believe that this movie will be Marvel's biggest hit yet, which is saying A LOT considering the success they've had time-and-time again.
Deadpool 2
I loved the first Deadpool almost more than I should have. It was definitely the biggest surprise of 2016 and I was so happy it turned out the way it did. Now that Deadpool 2 is coming out, I'm very excited but kind of nervous, the first movie was such a surprise I don't know if this movie could live up to the first. But, I'm still glad that Cable will be in this movie and i'm glad that Ryan Reynolds is reprising his role because personally I don't think any other actor can pull off the lovable 'Merc with a mouth', Wade Wilson, as much as he could.
A Quiet Place
This movie comes out very soon and is directed, written by, and starring John Krasinski. Most people know him as Jim Halpert in "The Office" and I'm glad he's been taking these more serious roles. He stars in this film alongside his on and off-screen wife, Emily Blunt. This movie looks incredible and intensely terrifying. I'm very excited to see this and I hope it gets a lot of attention.
Incredibles 2
The first Incredibles is still one of my favorite Pixar movies. The way they went going with the more mature themes and violence granted this movie with the first ever PG rating for a Pixar movie, which doesn't sound very impressive but at the time was very surprising. The second film looks to be an immediate continuation of the first movie, focusing on Mr. Incredible staying home and caring for his recently discovered super powered son, Jack-Jack. This movie will more than likely be fantastic because that's Pixar's niche at this point.
Jurassic World: Fallen Kingdom
The first jurassic world was a worldwide hit, making 1.5 billion dollars and being granted a sequel. The sequel will have the same cast and actually looks quite frightening considering the trailer. When I first saw the trailer it looked almost like a horror movie because of the dinosaur in the little girls bedroom. This movie looks alright but i'm not too excited.
Solo: A Star Wars Story
Since Disney bought out Star Wars, it looks like we'll be getting a new Star Wars movie every year, which honestly makes me kind of sad. The original films are so special in the film industry, they changed everything. But, the movie looks alright at best, I like how Emilia Clarke is going for more roles besides her iconic portrayal of Daenerys Targaryen in Game Of Thrones. But, overall, I'll most likely see it, but I'm not super pumped for it.
_______________
Overall, it's looking like this summer is going to be another exciting year in film, and I can't wait to see all of them.

About the Writer
Damon Roe, Staff Writer
My name is Damon Roe, I'm 15 years old and the biggest film fanatic you could ever meet. I'm a new writer and camera person of the Johnny Green, and...