Big Brother 20 Week 9 Veto Competition and Ceremony
Hang on for a minute...we're trying to find some more stories you might like.
Week 9 of Big Brother 20 is on course for yet another houseguest to be evicted on Thursday and for one houseguest of the jury to return to the game. With Level Six currently in power, will the currently all-Hive alliance filled jury see another one of their own evicted or will the Power of Veto be just the lifeline nominees Haleigh Broucher and Faysal Shafaat need in order to survive the week?
To recap Week 9 so far, Angela Rummans won her second Head of Household, making her the first houseguests this season to win the title twice. Last week, Faysal (who was Head of Household at the time), made an alliance with Angela, Haleigh, and Tyler Crispen to work together and dominate the house, but Angela and Tyler had no real intentions of honoring that deal. Angela contemplated a few different moves but ultimately decided to outright nominated both Haleigh and Faysal to ensure that at least one of them would remain on the block come Thursday. If "Fayleigh" wants to make it through the week, then one of then must win the Power of Veto and save themselves and larger target must go up in their place.
Post-Nomination Ceremony
Faysal and Haleigh talk about how the Veto is their last hope this week and Faysal realizes the various mistakes he has made in this game and that Haleigh has made as well.
Veto Players
Only six houseguests will participate in the Veto Competition: the Head of Household, the two nominees, and three other players selected by random draw. One at a time, the Head of Household and the two nominees will each draw a chip with a houseguests name on it, meaning that houseguest will compete. If a houseguest pulls a "houseguest choice" chip, they can choose any houseguest they would like to participate in the Veto Competition.
Angela Rummans draws the chip of Kaycee Clark.
Faysal Shafaat draws the chip of JC Mounduix
Haleigh Broucher draws a houseguest choice chip and she picks Sam Bledsoe to compete in the Veto Competition.
So this means, Angela Rummans, Faysal Shafaat, Haleigh Broucher, Sam Bledsoe, JC Mounduix, and Kaycee Clark will participate in the Power of Veto Competition. Will Faysal or Haleigh manage to win the Power of Veto and save themselves from eviction this week or will the nominations remain the same?
Power of Veto Competition- "Mission To Planet Veto"
Houseguests are tasked with catching "vetonium" that is shot at them by "alien creature" props that are set up in the backyard. If a ball of vetonium, or a squid in Round 3, hits the ground, then it is no longer in play and does not count, meaning they must be caught in the air and cannot be picked up. Houseguests are set up in different rounds with different hazards and different objects to catch to obtain the vetonium. Point values change in each round Round 1- every catch is worth 1 point, Round 2- every catch is worth 2 points, Round 3- every catch is worth 3 points) and catching the most vetonium will result in that houseguest winning the Power of Veto.
JC Mounduix finished with a score of 2 points.
Haleigh Broucher finished with a score of 13 points.
Sam Bledsoe finished with a score of 2 points.
Angela Rummans finished with a score of 16 points.
Faysal Shafaat finished with a score of 32 points.
Kaycee Clark finished with a score of 33 points, so Kaycee has won the Power of Veto.
Veto Ceremony
Kaycee Clark decided not to use the Power of Veto, meaning Faysal Shafaat and Haleigh Broucher are this week's final nominations and one of them will be evicted and have the chance to return to the house in the jury battle back competition.

About the Writer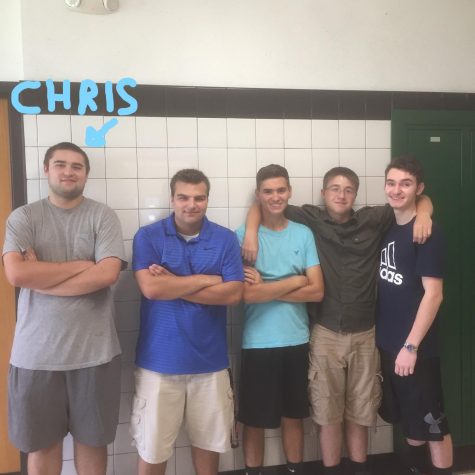 Chris Chalker, Managing Editor
With a passion for writing and some great new experiences under his belt, Chris Chalker is ready to take on his senior year with The Johnny Green, transitioning...