Big Brother 20 Week 10 Veto Competition and Ceremony
Hang on for a minute...we're trying to find some more stories you might like.
With the Jury Battle Back last Thursday, the Final 8 of Big Brother 20 are set and with Tyler Crispen as Head of Household (HOH) this week, he will advance to the Final 7, leaving the rest of the house to fight for their lives in the game. Tyler had previously nominated Haleigh Broucher and Scottie Salton for eviction, seeing them both as easy targets and therefore, easy moves to make. Now, Scottie and Haleigh must compete in the Power of Veto Competition, which could potentially be used to save them from eviction this week. But first, what has happened since the Nomination Ceremony, what drama has unfolded in the house, and who will win the Power of Veto? We'll soon find out.
Post-Nomination Ceremony
Tyler tells Scottie that he is the pawn this week and Haleigh is the target. He also told Haleigh that she is not the target. Oh boy Tyler. What are you doing?
Sam straightens Tyler's hair and Tyler freaks out, saying that he looks like a girl and that he doesn't like it but it's all in good fun.
Houseguests have complained that Sam has become irritable and annoying since she gave up smoking and Kaycee says that Sam kills the vibes in the house so she may need to go sooner rather than later.
Tyler and Angela were back to back HOHs and have enjoyed spending time together and becoming closer, but this also makes everyone in the house feel like they need to prevent them from doing anything together by coming up to the room and interrupting them. Later on, the two eventually kiss for the first time.
Veto Player Pick
Only six people will participate in the Veto Competition: the Head of Household, the two nominees, and three other players selected by random draw.
Tyler Crispen draws the chip of Kaycee Clark, so she will participate in the competition.
Scottie Salton draws a houseguest choice chip. He joking picks Steve Arienta and the house laughs. He picks Sam Bledsoe to compete in the Veto Competition.
Haleigh Broucher draws JC Mounduix's chip, so he will participate in the Veto Competition
Tyler, Kaycee, Scottie, Sam, Haleigh, and JC are all slated to compete in the Veto Competition.
Power of Veto Competition- "Control Your Emojis"
Houseguests are tasked with going back and forth across a seesaw/balance beam and transferring their "emoji" bouncy balls from one end of the seesaw/balance beam to the other end and place them into their "message bubble", which is a flimsy and shaky platform on the end of the balance beam. If a houseguest falls off of their beam or has an emoji fall out of the message bubble and hit the ground, then that houseguest must start over completely. The first houseguest to transfer all of their emojis to the message bubble and hit their buzzer without any of their emojis falling out will win the Power of Veto.
After Haleigh messes up and after correcting a mistake of her own that nearly cost her the win, Kaycee managed to win the Power of Veto for the second week in a row!
Post-Veto Competition
Tyler reassures Haleigh that she is not the target this week and she is annoyed that he is beating around the bush and not really telling her anything.
Scottie let's it slip to Haleigh that Tyler told him he was the pawn this week, so she is the target. Haleigh starts to cry and Kaycee comforts her. What will Kaycee do with the Power of Veto now?
Veto Ceremony
Kaycee has decided not to use the Power of Veto, meaning Scottie Salton and Haleigh Broucher will be this week's final nominations and one of them will be going to the jury house on Thursday night's live eviction episode. This certainly looks like it could be a revolving door for Scottie this week, but anything could happen.
Who will be evicted from the Big Brother house, Scottie or Haleigh? And who will become the next Head of Household? Stay tuned for those answers.

About the Writer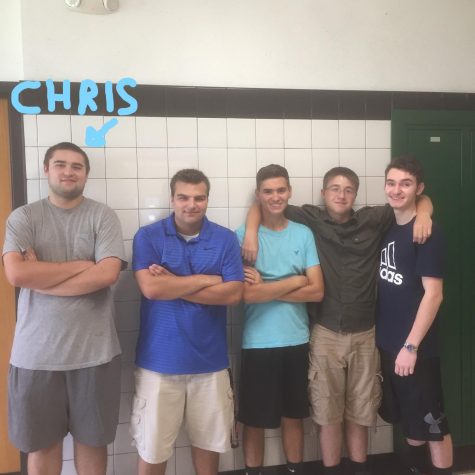 Chris Chalker, Managing Editor
With a passion for writing and some great new experiences under his belt, Chris Chalker is ready to take on his senior year with The Johnny Green, transitioning...