Need Something to Watch? Designated Survivor Coming to Netflix Soon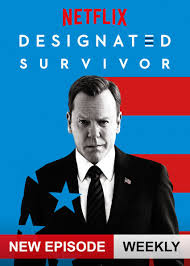 After two seasons on ABC, Designated Survivor was canceled. Throughout the show's history, it faced many different problems, mainly stemming from numerous showrunners taking control and the directional decisions each showrunner made after stepping up, which was reportedly the reason ABC canceled the show after the season two finale, "Run" aired, instead of the typical reason a show is canceled, that being low viewership. Recently, it was announced that Netflix was picking up the series and would produce more seasons. Season three is set to air sometime in 2019 and before season three airs, there are some things that viewers should know.
Episode Count
Season three will allegedly have 10 episodes. But how does this compare to the previous seasons? Well, season one of the series contained 21 episodes in total, while season two contained 22 episodes, bringing the series to 43 episodes overall. So season three is about half the length of a usual season.
Storylines
When we last left off, several storylines for the show had been opened up. Emily Rhodes (Italia Ricci) had been caught on camera working with Valeria, a spy whom detective Hannah Wells (Maggie Q) had taken down and killed because she had been targeting her former partner, and former love interest, Damien Rennett's daughter. Emily ends up resigning and this might be in part because of her dealings with Valeria and is definitely in part because of her harassment of the Chief Justice on the Supreme Court.
Meanwhile Seth Wright (Kal Penn) and Lyor Boone (Paulo Costanzo) went to a US protectorate and tried to convince them not to leave the fold. A tsunami hits and Seth goes missing. Lyor assumes the worst has happened, but Seth is later revealed to have made it out alive.
Additionally, we had prosecutor Ethan West (Michael J. Fox) launch an investigation into former President Cornelius Moss (Geoff Pierson) and into President Tom Kirkman (Kiefer Sutherland) as well for leaks against the White House and illegal acts committed by Kirkman and his staff. Kirkman nearly resigns but after working out an "agreement" with Ethan West, he decides to announce that he is run for reelection as an independent, as does Cornelius Moss as the Republican candidate for the presidency.
The story can splinter off in many interesting directions, but as of lately, it felt as though the series didn't know what creative direction it wanted to go in, struggled to make storylines work or rushed through them too fast, and in a sense it lost sight of its original story (the bombing of the State of the Union address that made Tom Kirkman the president in the first place), but this could be corrected and right the ship in ways that it previously could not do.
Season 3 Launch
Not much is known about when season three will be released, but it is known that it will be at some point during 2019. There are many ways in which the story can go, especially with Kirkman and Moss facing off as presidential candidates, Emily's resignation, and Wells' recent discovery about Emily and Valeria.
Will you be watching Designated Survivor when it returns to Netflix next year?