News Of the Strange: Ostrich Joins Bike Race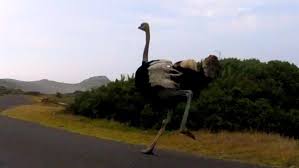 Editor's Note: This is the first of what we plan to be many News of the Strange articles, where we will feature odd news/events happening around the world that the students of Weedsport might have missed. Enjoy!
Cyclists encountered a very unusual follower while getting warmed up for the Cape Town Cycle Tour, when an ostrich suddenly jumped out onto the road and followed the cyclists on their 80 mile ride towards the Cape of Good Hope. The tour is held in South Africa and is the longest timed cycle race in the world.
Witness Oleksiy Mishchenko from Zurich, Switzerland was able to catch the crazy chase on camera. The video already has over 300,000 views and has gone viral! See the video at: https://www.youtube.com/watch?v=kotWv4MCxNI
The ostrich was able to keep up with the training cyclists for well over a minute before slowing down and steering away from the cyclists. An adult ostrich can run as fast as 45 mph and can maintain a steady speed of 30 mph for 10 miles straight.
One cyclist reported to Huffington Post that: "It was a little scary at first, but then I thought I was gonna fall off my bike from laughter. The ostrich didn't have any problem to keep up at 50km/h (31 mph) and apparently they do 70km/h (43 mph) with no sweat."