New Books to Check Out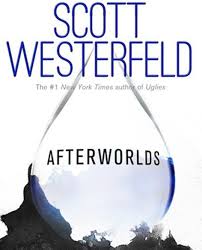 With spring officially here (or as here as CNY can get) new books are in the air. Or at least that's what I think about with these spring months upon us, the excitement of Teen Book Fest in May and a bunch of my favorite authors just coming out with new novels. Whether they are a continuation to a much loved trilogy, of a brand new story to fall in love with, there is just so much to choose from!
I've talked to sophomore, Kylie Butler about her favorite books this year and what she plans on reading. "Books are an escape into another world," says Butler. "I'm extremely excited to see Scott Westerfeld this year at TBF and to read his new book Afterworlds, which seems amazing."
Afterworlds is one of the many books that will be making a premiere at this year's Teen Book Fest. The author, Scott Westerfeld also wrote the Uglies series which is another huge favorite. Along with Westerfeld there also a lot of other amazing authors to attend.
Authors that will be attending this year's Teen Book Fest:
Laurie Halse Anderson
Jesse Andrews
Cathleen Davitt Bell
Charles Benoit
Sarah Rees Brennan
Anna Breslaw
Jennifer Donnelly
Tim Federle
K.L Going
Chris Grabenstein
Harriet Reuter Hapgood
Rachel Hawkins
Ellen Hopkins
A.S King
Mercedes Lackey
Justine Larbalestier
Caroyln Mackler
Kekla Magoon
Kory Merritt
Ridley Pearson
Tamora Pierce
Gary Schmidt
Steve Sheinkin
Alan Lawrence Sitomer
Jessica Spotswood
Robin Talley
Mariko Tamaki
Janet B. Taylor
Terry Trueman
Scott Westerfeld
Suzanne Young
Jeff Zentner
Some new books that with be published in 2016 to keep a look out for
1). New York Times best seller Red Queen's long awaited second book of the trilogy Glass Sword came out recently (Feb. 9th) by Victoria Aveyard
2). If you know the original Mortal Instruments novels you would probably be interested in the newest companion novel called Lady Midnight, said to follow the paths of shadowhunters five years later after the original novels. Released March 8th, written by Cassandra Clare
3). Maggie Steifvater, known for her skills as writing some of the greatest YA werewolf novels ever (my opinion). She now comes back with the new sequel to Raven Boys, The Raven King that will be coming out this April.