Behind the Music: A Look at The Addams Family Pit Band
Hang on for a minute...we're trying to find some more stories you might like.
This year, Weedsport's musical theatre will be showing its version of "The Addams Family", which involves a twisted love story between a dark, morbid Wednesday Addams, played by Sammi Ball, and an average, smart boy, Lucas Beineke, played by Kyle Walker, and the clash of the weirdness between the Addams and Beineke families.
As a member of the pit band, I believe this production is going be very entertaining to say the least because of not only the amazing cast, but the musicians in the pit. Overall, we have a lot of talent between the people onstage and in the pit and I can't wait to see the outcome of everyone's hard work.
The music has a very Latin rock feel to it and it's very interesting to hear the vocals overlap with the music we play. Although I will say the music is hard, I'm very excited to hear the end result, and I'm sure with the help of some professional musicians and skilled people everything will turn out amazing. Mrs. Kerr really helps us to focus and work hard, while still having fun with us and the best part, she give us food during practices. There's a lot of new members who've joined this year compared to last year which is always great because of the heightened interest level to participate and challenge oneself while performing in the pit. Although we're not in the spotlight per say, being a member of the pit has a great reward, and once the stress of show week is over, it feels amazing to say you were a part of that wonderful, yet sometimes nerve-racking experience. And we get t shirts so that's always a plus.
I asked Mr. Franco and Mrs. Kerr a few questions about their opinion of "The Addams Family" and I got some interesting and exciting responses.
Q: What is it like putting a show together and arranging all of the music and vocals?
Mr Franco: I think the best comparison to putting on a musical is putting on a wedding, except everyone is doing it on a volunteer basis, so it's kind of like you have a list of things that never end like things to do and as the production progresses, things get more and more like 'oh God we need to lock down these certain things and these people have to be ready and know their lines' and it always kind of feels like you're overseeing organized chaos but it's really fun to do because everyone is really dedicated to it and you know that when people are really dedicated to something, you're going to get the results you want.
Mrs. Kerr: It is very difficult to do, it's definitely a lot of work and in a professional pit band, the woodwinds typically play multiple instruments, but in our case, the students have learned to play one instrument and so we have to split up the book amongst multiple people so it's difficult to make sure we have enough people to cover each part, and to make sure we don't have too much sound but the balance is good, and that I have enough copies, and it definitely takes a lot of time. It's a very big time commitment to be a part of the show.
Q: What is your favorite part about being in charge of the production?
Mr. Franco: I love watching a show progress from the first rehearsal to the final product. Something we started doing a couple years ago is we would film a couple ensemble numbers and so we'd be able to reference them and watch them and I always love right before the musical opens, watching clips from the first week, bare stage with kids who barely know the choreography and vocals, and seeing it turn into a complete production that is complete and full of life and energy and color and vibrancy, and that's such an amazing experience too, to be able to see that evolve in such a short amount of time.
Mrs Kerr: My favorite part about being a member of the production staff is all of the relationships that are made, and all of the inside jokes, and just getting to know all of the students better than some of the other teachers because we spend a lot more time with everybody, and when you spend more time with them towards a common goal it tends to really bring people closer together and they form a sort of bond and we all have a really great time and I really value that.
Q: What is your least favorite part of being in charge of the production?
Mr. Franco: It's definitely a lot of stress that is inflicted upon yourself when you decide to direct a show, there's lots of times where I'll wake up in the middle of the night and have to write a note to myself because I'll have to get a prop or I need to make sure I send out an announcement or I need to make sure everything is going okay so there's something that's always being asked in the back of your head like do I have everything do we need anything today this week this month this production to make sure everything is good to go.
Mrs. Kerr: Probably right at the beginning where I have to make a lot of copies and make sure that I have everything for everybody because it's just a lot of organization and it also is a lot of time and it's kind of like having another part time job on top of my regular teaching job and being that I live half an hour away it can be tough sometimes to just coordinate things in my personal life and still have a life and see my family and then also be here when I need to be because I like to work around the students schedules and sports schedules and make sure I can get everyone to the pit band so sometimes that means sacrificing things on my end.
Q: Was it difficult to cast the leads for this year, or was there an idea in the back of your head about who was going to play who?
Mr. Franco: When we pick a show we always try to make sure that we have buckets of people who we think could play each role. In other words, I'd never pick a show if we had no one who could play specific roles, but I'd never pick a show thinking a certain person would play a certain role. If I had to have guessed who would've been cast in this production before the casting actually happened, I probably would've gotten one or two of the leads right because when students come into the auditions, they evolve so much from the year before that you can't possibly predict what they're going to bring to the table so something I've learned to do is to just kind of accept the fact that we know we have people who could play these different roles but going into the auditions, but it always changes and is always surprising, we always have people who exceed our expectations so we just learn to take auditions as our deciding factors of who is going to play each of the roles.
Mrs Kerr: When we pick a show we always have a couple of people in mind for each character because we wouldn't want to pick a show where there's no one available to play a certain part because then we'd be stuck, so we always have a couple people in mind but it always seems to shake out differently than we think it's going to happen, we think certain people are right for a certain role, but then we see them come in and do their auditions and callbacks and we're just blown away by how they take a role in a completely different direction  and usually they'll get the part and it always inspires me.
Q: What sparked your interest in choosing this play to perform?
Mr. Franco: When I first heard that they turned the Addams Family into a musical, I thought it was kind of weird and I didn't think it would be that good, and I was very fortunate that Skaneateles did the show last year and they have a good reputation of doing really good versions of musicals so Mrs. Franco and I saw it and I immediately thought it was a fantastic show and something I wanted to do and it seemed like a good match for this year. Going off of the shows we've done in the past, we want to make sure we do a variety and I thought this was a good step for our program.
Mrs. Kerr: I had seen it before, and the Francos have seen it before, and a couple schools in our area have done it recently and it just kind of seems to fit the vibe of the students we have right now, particularly the senior class and we feel like they're just a little more funky than a typical Rodgers and Hammerstein show, it wouldn't be the same for them, this show seemed to fit them and we were very excited to bring this show to this particular group of students.
Q: What should the audience expect to see?
Mr. Franco: They should expect to see a really high energy show that is surprisingly relatable, incredibly funny and I think our productions are always very polished and professional, and this year will be no exception.
Mrs. Kerr: They should expect to see a really high quality show that is very entertaining and is going to bring a lot of laughs and bring a lot of smiles, which we always deliver a show that is just such high quality and rarely just wows our audience everytime.
Will the families work out their differences in this performance? Come to see the show and get some tickets! You just might find out!

About the Writer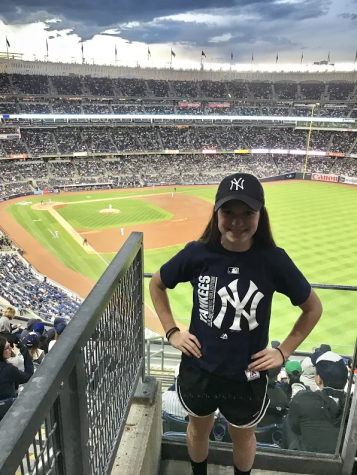 Bridget Hickey, Staff Writer
Hey y'all! I'm Bridget Hickey and I'm a sophomore here at good ol' Weedsport. I'm just your average nerdy girl who loves history and writing,...