Teenage Life in a Broken World
Hang on for a minute...we're trying to find some more stories you might like.
We as a people are so divided that we start to riot and protest over anything that could be taken wrong by anyone. Sure, everyone has the right of free speech and the ability to protest peacefully, but somehow something always gets taken too far and we end up with a tragedy.
It's hard growing up in a world that is so broken and full of hatred and disgust, because it just goes to show that life isn't as pretty and perfect as you'd think it to be as a young, maturing individual. It's sad that we see a national or even global tragedy and we think nothing of it because of the fact that it happens so often. We seem to lack concern because of society's standards on how we should look at other people. It seems as though some students at our school aren't even aware of the depth of things that happen around us, and it's really sad to witness because of the fact that our world is just so disgusting, and utterly terrifying when it really comes down to it.
So, what does it really mean to be a teenager living in today's society? I asked a few students here at Weedsport to determine whether or not I was the only person who thought this way, and here are the responses I got.
Q: How do you feel about the world today?
Taylor Hunter: "I feel like it's very corrupt because of all the terrorist attacks that have been going on lately, and the government because of the recent election."
Julie Buchmann: "I feel like a lot of people are so absorbed into social media that they lose personal connections."
Mckenna Holmes: "The world is full of sexism and racism and no one does anything about it to make a difference."
Q: Do you feel as though our society has faults, and if so, what do you think of them?
Taylor Hunter: "Popular people today in our society have taken over and think that they rule the whole system because it's been socially acceptable until now, where everyone is now starting to realize that this isn't the way it should be."
Julie Buchmann: "Yes, because people have a lot of negativity and have lower self esteem, because they can hide behind their screens and say hateful comments to others."
Mckenna Holmes: "The world has many faults that should be fixed, poverty could occur less, sexism and racism could be ended but are still going on without anyone doing anything."
Q: Do you think that we need to change the way we look at the world around us, and if so, what do you think we could do as a society?
Taylor Hunter: "Yes, I think we could change the way our government has been taking care of threats that have been happening in our society."
Julie Buchmann: "I think that people should have a more positive attitude and respect others for who they are."
Mckenna Holmes: "We need to change how cruel the world is around us is. We need to end the unnecessary violence to make the world a better place."
Q: What do you think are some impacts that society has on our generation?
Taylor Hunter: "People in our generation have different thoughts about how people say different things about them, they take it negatively before they find out what it really means."
Julie Buchmann: "Our generation has high standards based on appearance, when in reality not everyone can meet those standards."
Mckenna Holmes: "Society impacts our generation on the way we look at everyone, and everyone gets labeled or judged for everything they do."
Q: What do you see in our future as a society, concerning the tragedies we face today?
Taylor Hunter: "I see the continuation of other generations taking things too seriously and I don't see our government getting any better in the future due to all the threats and terrorism throughout the world."
Julie Buchmann: "I see a lot more terrorism happening because it's such a big problem in our world, but I also see a lot of positive technological advances in put generation."
Mckenna Holmes: "In our future there's going to be more violence and issues on the way people act towards each other."

About the Writer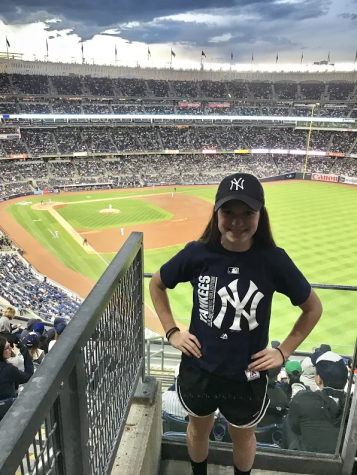 Bridget Hickey, Staff Writer
Hey y'all! I'm Bridget Hickey and I'm a sophomore here at good ol' Weedsport. I'm just your average nerdy girl who loves history and writing, which is pretty convenient since it's my first year being a journalist here at the Johnny Green! Besides all the boring stuff, I love sports, music and movies and I can't wait for what this year will bring!