Woodstock 50 at Watkins Glen: Will it Happen, or Nah?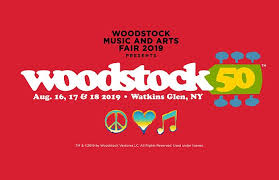 A long-standing phrase states: you know it's summer when you're rocking in Weedsport. Unfortunately, rocking in Weedsport (or our close neighbor Watkins Glen) won't happen if a high-profile planned event, Woodstock 50, gets cancelled.
It is the most anticipated show of this summer, 180 miles northwest from the original concert hometown of Bethel NY, and only an hour drive from Weedsport. It is scheduled to be held at the Glen Racetrack. Many people have stated it is too small to host this kind of event, but history has shown otherwise. It was the site of many other famous concerts like Summer Jam back in 1973, when it drew about 600,000 people to see famous rock groups like The Band, Allman Brothers Band and the Grateful Dead.
This year's show was supposed to feature acts like Jay-Z, The Killers, Halsey, Chance the Rapper, and Greta Van Fleet – the "new Led Zeppelin" as fans all around are calling them. Speaking of Led Zeppelin, Robert Plant, the vocalist of Led Zeppelin, is gonna be performing also with his own band Robert Plant and the Strange Sensation.
A lot of people are thinking, what happens if this turns into another Woodstock 1999 in Rome NY? That event, on the 30th anniversary of the original show, was held about 121 miles away from Watkins Glen and 43 miles from Syracuse. Michael Lang, Woodstock's promoter, has promised Woodstock fans that he won't make the same mistakes back in Woodstock '99 that ended with fires, riots, and allegations of assault. When the Red Hot Chili Peppers closed the festival and were given permission to hand out candles to the crowd, it didn't end so well, with fires springing up and shutting down the festival. The other cause was the raw intensity of the music that caused the crowd to become violent, like when Limp Bizkit performed the song Break Stuff that made the crowd very violent and crazy.
Hopefully, this year's show will work out and Weedsport students will be able to make the hour drive to the biggest music event of the summer.