Benefits to Teenage Coffee Consumption?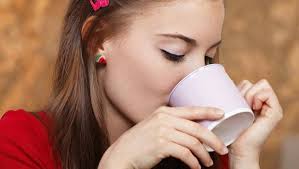 Are there any benefits to teenagers consuming coffee everyday? When walking down your halls, you're more than likely to spot at least a few students sipping their coffee or occasional energy drink. A majority of teens intake caffeine through a variety of ways, but due to recent studies coffee drinking among high school students has nearly tripled over the past two decades. So, yeah of course coffee has no nutritional value however can still be extremely beneficial for some teens
Coffee Can Improve Energy Levels
It's a well known fact that the caffeine that is in coffee can help people feel less tired and increase energy levels. This could become extremely useful to any student juggling school and a part-time job. The caffeine would give a student some energy from maybe a rough night of studying for any exam. How could that not be beneficial? However, it is recommended to drink in moderation even though the drink doesn't promote any brain development delays, losing sleep will. Due to the caffeine that stimulates the extra energy drinking some at night could potentially ruin the human's natural sleep cycle.
A Memory Boost
Going back to the constant studying that I'm sure most teachers wish us students did more, coffee might help ensure some great test scores. According to a 2014 study published in "Nature Neuroscience," drinking a cup of strong coffee can improve your memory. If a student struggles with memorizing any facts for any type of school work drinking a moderate amount of coffee can help keep memory sharp for up to 24 hours. There was even a study that said that coffee could help lower anyone's risk for dementia or Alzheimer's. So long story short if anyone judges you for the amount of coffee you drink in a day just explain that you are living a healthy lifestyle and that at least you are going to remember this conversation later in life.
Caffeine Can Drastically Improve Physical Performance
This is for all those sports enthusiasts. It is also a fact that caffeine can increase adrenaline levels in the blood. This is the fight or flight hormone that we all have, which is designed to make our bodies ready for intense physical exertion. Caffeine also makes the fat cells in your body break down body fat which is released into the blood making this all available as fuel. Given all this extremely exciting science talk it makes a lot of sense that a cup of coffee before practice can improve your physical performance by 11-12%, on average.
Some Common Misconceptions
I am sure that most people have that parent that that has said "coffee stunts your growth". Well, that is a complete myth. According to "The New York Times" coffee has no effect on how tall you could grow. It's just an old wives tale that also originated from the idea that caffeine also causes osteoporosis. Which of course is also false. Along with that another popular belief is that coffee causes dehydration. Which is also a commonly believed lie. If you drink a moderate amount you have no risk to have any dehydration symptoms.
So there it is, several reasons to keep your caffeine addiction going strong. I hope this made us all feel a little less guilty for the countless amount of coffees we drink each school week. Although, in all seriousness before even deciding to drink any type of caffeine it's important to know that it really is considered a drug and that even with these totally awesome facts there are still downsides so moderation is key regardless of what you're drinking whether it's coffee, tea, an energy drink, or soda.