This Isn't How it Was Supposed to End
The Johnny Green's Managing Editor Discusses the Strange End of this Year
 If you would've asked me in September how I imagined my senior year playing out the reality we are living now would be the farthest thing from my answer. 
   As you and every other person in the world know COVID 19 or the Coronavirus is a fast-spreading disease that is affecting every single person in the world. One-third of the population is either working from home or has gotten laid off from their job altogether. Only essential workers can work at this time, and who knows by the time you are reading this it could all change. That's the thing with COVID19, everything can change in the blink of an eye. This virus is life-changing for everybody, but there is a certain group of people that have one of the hardest realities to face. 
     At first hearing about the virus nobody really took it seriously there was talk about school shutting down but it was still a joke and within a week we were told that we were going to be out of school for the next two weeks. To some this was a vacation, no school seemed like an ideal thing for people who didn't even like to go in the first place. For me, I was sad and confused but I thought we can get through two weeks and we go right back to everything being normal. This idea of going back into two weeks quickly changed and we all knew this was something bigger and out of our control.
The talk about no graduation no senior dinner dance no senior breakfast no senior trip, and the Washington trip being canceled in the same week was devastating. Seniors final sports seasons ripped away with no explanation. It felt like everything we've worked these past 12 years for was completely gone just like that. Online learning is a new realm for all of us to try and accomplish and for me a very tricky thing to be motivated for. We still don't know what's going to happen but thankfully Weedsport and the class of 2020 have an amazing school and community to fall back on. Parents have gone around and made seniors shirts and taken their pictures, made signs to show off their seniors, and how much pride they have in their school, and the teachers and administration have been really good about keeping our hope that our final year isn't over just yet. 
    I asked a few of my fellow seniors how they feel about the Coronavirus affecting their senior year, and this is just a few of their responses, 
 "I think that COVID-19 has had many different effects on each person. Personally, for me, it's altered my everyday life. I was in such a habit of waking up at 7 in the morning and being expected to sit in school for 6-7 hours and now it seems just overnight that that's changed. Online classes are tricky at some times as well due to not having that personal connection with your teachers. I'm concerned about graduation, senior dinner dance, and a bunch of other special events that seniors were supposed to have. My social life has been altered too. Since social distancing has been implemented I haven't been able to see many of my friends unless we're in separate cars. I'm not going to work anymore too due to the high risk of exposure to the virus." -Madison Hudson
"I'm actually having a good time staying at home because I'm already mostly an introvert. But the fact that the stay home orders are extending further and further makes me really scared that I'm not going to have a fun summer, I want to go to friends houses and swim and eat food and stuff. And I'm really worried I'm not gonna be able to do that."- Damon Roe
"So it's senior year and things are going great. Nothing bad can happen, right? Oh, wait COVID-19 decides to come to my senior year! I usually wouldn't say this but I wish I was in school because staying home is getting old. I wish my team and I were at States and I pray we get to walk the stage. I'm trying to stay positive because I know things will get better."- Kelin Dejohn 
    I don't know how this is all going to play out, but nobody does. If you know a senior let them grieve over their losses, this is the loss of precious time to spend with their friends that they won't get back. I have no doubt in my mind Weedsport will make the best of what we are left with this all subsides, but I am personally am trying to keep my head up and stay optimistic. My heart goes out to the Class of 2020, this will still be our year no matter what. 
About the Contributor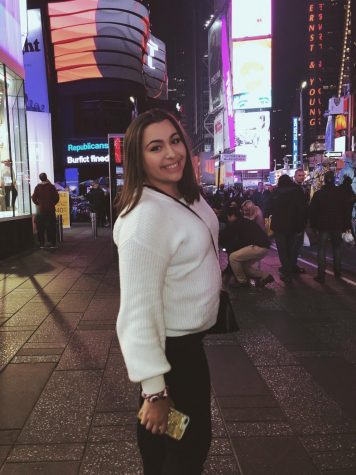 Antonina Tortorello, Staff Member
Antonina is a junior at Weedsport Jr. Sr. high. This is Antonina's second year as a part of The Johnny Green, and she's excited to be back. Antonina is...