Abe Jordan ('10) Works Hard to Fulfill His Dreams
Hang on for a minute...we're trying to find some more stories you might like.
Abraham (Abe) Jordan graduated from Weedsport in 2010, which was a class filled with high achievers. Many students from his graduating class have gone on to great success in a number of different fields, truly proving the JFK quote, "A rising tide lifts all boats."
After graduating from Weedsport, Abe attended the Virginia Military Institute (VMI), and from there he got his bachelor's degree in science and chemistry.
"I think academically I was very prepared for VMI, at least in the context of my classmates. You're never fully prepared obviously and every class you go to is different, but I feel like I had a good foundation. So, academically I was very prepared. VMI is unique because it is a military institute, so there it's more physically involved stuff and I was someone in academics who had a basis for physical fitness, but you are never fully prepared."
Mr. Bleakley, a chemistry and physics teacher at Weedsport, talked about Abe and his successes in academics prior to graduating
"Dedication, application, and just hard work. I expected him to be at least this successful because of those three qualities. He was a very good student and whose success helped him to where he is now, because the way that I teach physics, I put some pretty high demand on the students in terms of my expectations of them to think about things and not just accept things at face value. I give them a problem, they will have to analyze it, and it requires a lot of hard work. I hope that teaching prepared him well. His biggest successes? (laughs) Surviving. (laughs) Well, doing very well in physics and being able to take the information that is brought in the course and generalizing it in situations outside of the course."
Abe's success in academics prior to graduating was a key factor in where he is now and where he is heading in the future. Mr. Bleakley discussed why he thinks Abe was so successful post graduation.
"I expect that we will see a lot more from Abe in the future and I think he will go a long way. He has a nice personality and he works well with other people, and he's able to focus on something and set his mind to it, and work until it is what it is supposed to be and that is a very important quality."
Abe's father, Roger Jordan, is a well known former Weedsport athlete and alum. His dad has stayed involved with school athletics as a coach for the football and track and field teams at Weedsport. Abe, however, decided to go a different direction, both geographically as well as career wise. Abe is currently a graduate student in Georgia Tech's School of Chemistry. His research focuses on synthesis, structure, bonding, reactivity,and catalysis of N-heterocyclic carbene supported copper complexes. Abe explains what put him on this path.
"I am a third year P.h.D student. Most days I spend inside of a research lab, obviously doing research. Throughout my time here I also teach a four hour lab, it's just an organic chemistry lab for the undergraduates at Georgia Tech. So after VMI, I looked at various schools that I would think about going to graduate school at and I applied to them. The ones that I got into, I visited them and met with some professors and other graduate students, and from there I ended up picking Georgia Tech because it was a really good school. I study the fundamental properties of molecules you build copper with, so the applications may be creating difficult bonds, for things like cancer drugs or materials to go inside a cell phone or even making molecules to help with conversion."
Bleakley had some words of advice to current students and what they can learn from Abe and his success.
"I think that the one thing about Abe was that he never had a bad day, you know? He might have had some days when he was down and miserable, but he never took it out on me and he wouldn't take it out on the other students either. He was always polite, always tried to be friendly and happy. Even if he wasn't feeling happy, he didn't let it… contaminate his surroundings. To be successful, I think that you have take the good times with the bad and make the best out of bad situations and not let them overcome us, and if we can do that and progress further, we can let the best part of ourselves come out without being overshadowed by all the bad things."
Bleakley sees a big future for Abe, "I think he will become a CEO or own his own company at some point. Maybe even working for a government agency like NASA or something."
Abe has some important words or advice for any student looking to achieve big things in school and once they leave Weedsport. "Work hard and adjust. You'll get to a point where everyone is smart, but you have to work hard, and if you think something isn't going to go the way you want it to, then you have to adjust and roll with it"

About the Writer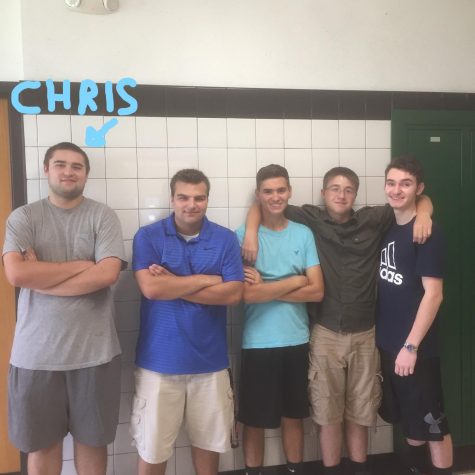 Chris Chalker, Managing Editor
With a passion for writing and some great new experiences under his belt, Chris Chalker is ready to take on his senior year with The Johnny Green, transitioning...