Allie Beardsley (Class of '08) Takes on Challenges as Head Field Hockey Coach at SUNY Morrisville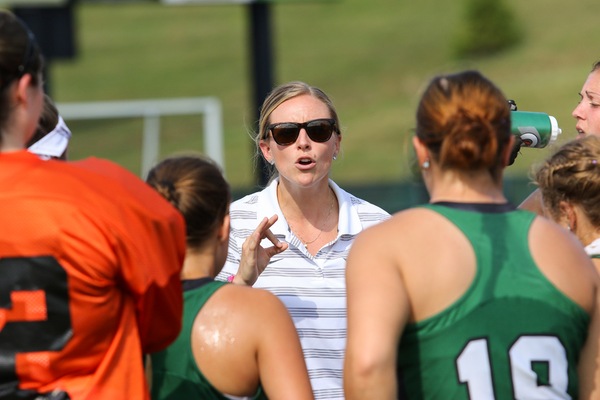 Weedsport alumna Allison Beardsley, Class of 2008, is the Head Field Hockey Coach at Morrisville State College. The Johnny Green recently got in touch with her to learn about her life after high school, and what it's like being a collegiate head field hockey coach.
Some advice that she would like give our current students is, "Do every extracurricular activity you can, because high school is the one place where you can sing, play an instrument, write, learn a new language, and be a three sport athlete all at the same time. In the future, though, you will only pursue one career and this gives you a chance to see what you want to do."
She comes home to visit during the summer when DB's is open, so you might find her down there. She said, "Growing up in a small community has its perks, and this school holds the bar high for their students and it gets them ready for college."
Along with being a head field hockey coach, she has been the manager for the USA Field Hockey Futures Program since 2013, and she's pursuing a Master's Degree in sports management. She said that college was "THE BEST," as she put it.
To be a head coach at a college can be tough, but she is handling it very well with practice schedules and travel plans for the team. She became the head coach in the spring of 2015. She has a Master's Degree in science management from SUNY Cortland.
Some things that she likes where she lives is all the different activities she can do in Syracuse like shopping, bowling, and even rope climbing. She loves the Mirror Maze at Destiny USA and thinks that everyone should try it. She can also get more food delivered to her door than just pizza.
Morrisville is Division III in the NCAA. In 2016, the team went 4-13 overall with one win at home and three wins away.
At the University of Rochester, where she went to college after graduating from Weedsport, Allison helped her team to a 13-6 overall record her senior year as a Yellow Jacket, and saw action in all 19 games. She finished with 43 points on the season with an assist almost every game. Allison is a great person and is always trying to help on and off the field in anyway that she can.
Ms. Leonardi has fond memories of Beardsley, "She is a great athlete and a great student; tremendously competitive, and has great determination on and off the field. You can depend on her to do anything."