Catching Up With Weedsport Alumnus Eddie Rooker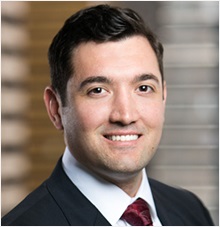 Where are you working now and what is your title?
"I am an associate at DLA Piper, which is a law firm in New York City and I work in their Labor and Employment group"
What did you study in college, and how did it prepare you for life?
"I studied labor relations at Cornell… I minored in international relations. The program offered me a lot of room to take courses outside my major and allowed me to get involved in extracurriculars and internships and externships that gave me experience. All of that prepared me to handle not just the employment side of things that I work with now, but all facets of the world and to be curious.. And to pursue anything I was interested in."
What do you like about the work you are doing now? Describe your career path.
"I like interacting with people. The fun part of employment law specifically is that every day you are interacting with clients whether it be individuals, general council, HR departments at companies. We're working with them on real world issues, things that are affecting their business on a day to day basis. So it's fun to work with them and tackle whatever… It's been fun working on a wide range of issues, sometimes its minimum wage issues, or class actions, sometimes it's counseling, even just updating employee handbooks."
How do you think your time at Weedsport prepared you for the career you have now?
"I think, more than anything, coming from Weedsport which is a small community, but it's a supportive community and it's a community that allows you to be involved in a number of different things and support you whether you succeed or fail. It's allowed me to leave Weedsport for the time being to have the confidence and be excited to try new things… to have come from a supportive place where you're encouraged to pursue your interests, it shapes the way you interact and your goals. I know that if I had grown up anywhere else I wouldn't have had the opportunity to play sports and be in band and do student government and to do all of those things that interest me… At a bigger school at a bigger city you have to specialize, but growing up at Weedsport you get a chance to do all that."
Who is a person from your time at Weedsport (teacher, coach, friend) that had a big impact on your life or helped you to achieve your goals?
"One person I was close with, Matt Smith, from the time I was in his 7th grade Social Studies class, to even after I graduated. The first internship I got in college was with the City of Auburn Corporation Council, which is their attorney office, and Matt being city councilman, got be that internship, it was my first internship in law…. Matt was the first person that got me interested in politics, he had a big influence not just in the things I was interested in but also being one of those people who was very supportive and I am thankful for that.
Another is Mrs. Lefevre, she was our class advisor and I was the class president, she's another person who was really supportive not just in the class advisor role but as a friend."
What advice do you have for Weedsport students of what they should be doing during their high school career and once they leave Weedsport to succeed?
"Continue to always challenge yourself and step outside your comfort zone and if something interests you take a shot. Coming from and being in a supportive community you have that opportunity to take chances or just give things a try."
What classes did you take at Weedsport to get into a college for your field?
"When I was in high school I didn't necessarily know what I wanted to do, I wasn't really preparing for law, but I did take as many AP courses as Weedsport had…. I was just trying to take the classes that would provide college level material so I could be prepared for wherever I went and whatever I decided I wanted to do."