Women's Basketball Preview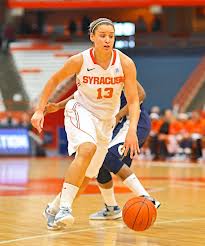 When someone mentions "college athletics," what do you initially think of? You might think of men's basketball, with powerhouse schools such as Syracuse University, University of Kentucky, or Duke University. Maybe, you think of college football, with top teams being Florida State, Auburn University, or Mississippi State. If you really want to push the spectrum, maybe you think of men's lacrosse, when you think about popular sports.
The one sport that you don't ever hear about? Women's basketball. There is much talent in that sport, that you may not even know about. In the NCAA Women's Basketball, some top contenders for the championship are the University of Connecticut, South Carolina, and Tennessee.
Sticking close to home, let's look at Syracuse University Women's Basketball. Their average attendance per game was about 662 people, in 2014. Comparing that to men's basketball, Syracuse was the number one average with a total of 26,253 people.
While Syracuse has an average of 662, the top school, Tennessee, had an average of 11,038; a huge increase from Syracuse's women's team.
Despite the small numbers, Syracuse women have a chance in the playoffs this year, according to ESPN. They are projected to make it to the "Sweet 16" round this year, being seeded number six in their division for the playoffs.
The University of Connecticut is considered the number one team in the nation for women's basketball, led under coach Geno Auriemma. They have the power junior, who has been seen on SportsCenter a lot recently.Her name is Breanna Stewart; the six-foot-four basketball phenomenon from Cicero-North Syracuse, just a half-hour from Weedsport.
The UConn basketball team is projected to go all the way, and win the national title on April 8, against Notre Dame.
With the help of their Athletic Communications Staff Member, Mr. McKenna, I was able to ask Ms. Stewart a couple of questions.
" I think you want to have the support of people in your life, especially your parents and teachers," said Stewart, commenting on the types of people a high school athlete should have in their life.
With a decent schedule coming up this year, UConn looks to have a successful season. With middle to late season games including Duke, Notre Dame, and Depaul, they have a full season ahead of them.
" I think the competition was up and down throughout my high school career," said Stewart. "College is a completely different level but there were a lot of really good [high school] players that helped me be as ready as a could be."
Moving out west, now to Iowa State, which has Utica Notre Dame graduate, Emily Durr, the No. 70 recruit in the nation her senior year.
Compared to Stewart, Ms. Durr had the same answer for people who athletes should have in their life. "I believe you should surround yourself with people that: encourage and motivate you…understand the level of commitment…have similar goals…positive attitudes…friends that help you unwind…a parent/teacher/coach who pushes you…I personally believe these people will help you succeed!"
Iowa State has a good schedule, just like any other team. They are still projected to make it to the playoffs at the No. 7 seed. They have tough teams such as Baylor, Drake, and Texas Tech.
"Overall high school competition in New York is great don't get me wrong, however…I believe branching out and playing for a travel team prepared me more," said Durr, commenting on the high school competition compared to NCAA.
Going back to Syracuse in the playoffs, they are to play the first round Chattanooga predicted to defeat them in a close game. They are then to move onto the second round, face Kentucky.
With what looks like an easier schedule compared to UConn, there are still a couple games that look like a challenge: Texas, Baylor, and West Virginia. They do have a couple games where it seems like they will win, being against Stony Brook and Fairfield.
In UConn's case, they are to start against PV A&M in round one, and win with a big deficit. In round two, they are to play Saint Josephs, and have a big win as well, then move onto the sweet sixteen and play BYU, and once again, they are projected to win. They are then to move onto the elite eight, play Texas A&M. If they win,  they move onto play Stanford in the final four and win again. Finally, on April 8, they are to win the championship against Notre Dame.
In Iowa State, their playoffs are to be cut short. They are to play the first round against No. 10 seed, Florida State, and lose in a tough game. However, they are still going to do great!
Overall, the season looks very promising for the NCAA Women's Basketball Season, for many teams including: UConn, Syracuse, Iowa State, and many other colleges.
The Johnny Green wishes UND Graduate Emily Durr, and CNS Graduate Breanna Stewart luck this year, as well as the Syracuse Orange Women this year on a successful season.