Alex Rodriquez Writes Apology to Fans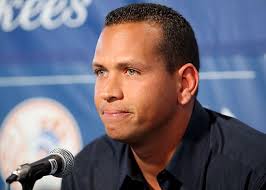 On February 17, one of the hottest Major League Baseball stories came around to spark up new interest – Alex Rodriguez. If you didn't know, he spent the entire 2014 season on a 162 game suspension, which basically equals out to the entire length of a regular MLB Season. Rodriguez, known as "A-Rod," wrote a handwritten apology to many people for his use of performance enhancing drugs (PEDs) with the company known as "Biogenesis," which has gotten major news coverage recently.
Biogenesis was also found to be distributing PEDs to a lot more famous athletes than just A-Rod. They were found to be with  Ryan Braun of the Milwaukee Brewers, Nelson Cruz of the Seattle Mariners, Melky Cabrera of the Chicago White Sox, Bartolo Colón of the New York Mets, Yasmani Grandal of the San Diego Padres, Jhonny Peralta of the Detroit Tigers, Francisco Cervelli of the New York Yankees, and Jeús Montero of the Seattle Mariners. Many of those players received suspensions, but out of all of them, A-Rod's was the worst.
A-Rod has had a successful career, even before the PEDs. He was the youngest player to ever hit 500 home runs in one career, and has fantastic stats. Before the PED scandal, no doubt, his number (lucky 13) would've been retired by the New York Yankees. He would've gotten a fantastic farewell tour like Derek Jeter and Mariano Rivera when they were given gifts. He would've been cheered for at his final home game, by almost every Yankee fan in the city of New York.
Now? Now that opportunity is gone. Especially after the scandal. The letter doesn't help anything at all, due to his reputation. I personally believe he only wrote the letter just to get some more camera action, to get some "fans" behind his back, and attempt to get into the league – where he won't make an impact.
In the letter, A-Rod described that he was very sorry, and that he would do everything he could to get back to playing. Recently, he reported early to training camp for the Yankees, but that still won't help.
There will be many fans who support him 100%. There will also be fans who say that A-Rod is just a waste of space now. A-Rod is getting older, as he is 39 years old. In the one year he was suspended (plus any other amount of time he was suspended), he said that he trained. However, there is no way he trained to the caliber that the MLB Players train every day. Sure, he might recover, but at his age, he's not able to get to where superstar Bryce Harper, who is 22 years old, is.
To read the full letter, here is the link: http://m.mlb.com/news/article/109501412/alex-rodriguezs-letter-of-apology-to-fans