Varsity Baseball's Season is Looking Bright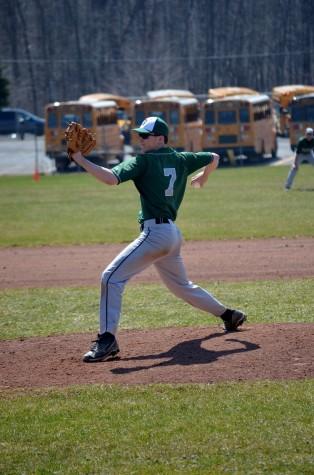 The Weedsport Varsity Baseball team doesn't get too much recognition from their peers. In the past couple years, that recognition has increased, and it will still keep climbing if the Warriors keep improving like they have the past couple years.
After numerous years of an under .500 record, the boys changed that last year with a 10-8 record, behind strong play from John Christopher, and alumnus Andy Young. They tied for first in the league with Pulaski, but the Blue Devils became the ultimate league champions.
"The season as a whole was memorable, we were senior heavy and I was disappointed we were not more successful in the playoffs, but the late season run we had and getting a sectional home game was gratifying," said head coach, Chris Maher. "An extra inning win at Tully, defeating Cato in the county tournament and getting our first victory at NBT bank stadium against OCS were some highlights of the season."
With their first league title dating back to the 1940s, they were a consistent factor in the league up until 1983. However, there hasn't been a league title since then. The sectional side of the baseball banner is still empty, due to strong Section III teams.
With a top pitching group of Shaun Ferguson, John Christopher, and a little bit of Alec Barner, the mound is looking bright for the Warriors this year. Christopher was First Team All-League, as well as pitcher of the year in the league, last year.
"Individually I'd like a personal best [with my] batting average of .350 or better, and to have fun," said Christopher. "Team wise the goal is always sectionals, and then advance through."
After a heartbreak for the past two seasons of a so-close of a league title, the Warriors hope to end the streak this year, and go for the league, and hopefully make a sectional run. They lost to West Canada Valley last year 7-9.
"Sadness, as I think we could have competed with anyone we got matched with," said Maher on the loss, "but their resilience to come back from what could have been a tie ball game to being three runs down, they chipped away and we had the game tying run on second base when the third out was recorded."
This year, the boys look to change their fate and get another year on their banner in the Weedsport Gymnasium. With numerous returning faces, top athletes, and new faces, they could do just that.
The team takes on Cato-Meridian to start the season on April 4 if the weather permits.
"[I have] no predictions [on the Cato game], [I'm] just hoping to field a team that puts 100% effort forth in every facet of every game," said Maher. "We will have many new faces in our line-up, some with experience, some with very little.  We have two strong arms in John Christopher and the return of Shaun Ferguson to our ball team, so I'm excited to see what we can put together around their pitching."