Boys Varsity Basketball Looks to Build on Winning Tradition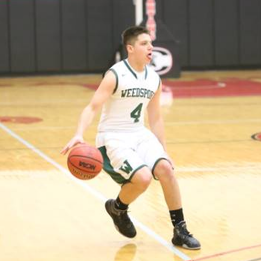 The Weedsport Varsity Basketball Team has a tough season ahead of them. The team is looking to capture exactly what they found last season. With many seniors leaving last year's team they are a new team, they are looking for blood.
The Warriors went 21-2 last season, losing to only the toughest opponents on their schedule.
The Johnny Green recently sat down with a number of players on the team to discuss the upcoming year. Riley Spingler, a junior on the team discussed what the team looks like, and how they are looking to have a successful season. He said, "I'm looking for a repeat of last year, we want another section championship."
When asked who will be some of the key players on the starting squad this year, Spingler replied:
"Jake O'Connor is our point guard, and we want him to run the floor and be a leader."
O'Connor, who was also in on our discussion, then said what he wants from the others on the team, stating, "We want Jack Benedict to be a big show this year, getting the boards and to be great on D; and Jeff DeJohn is looking to expand his game beyond his great 3 point shooting."
They also have a new manager this year, Zachary Butler, who was part of the interview and provides a key role in keeping the team moving in the right direction. When asked about what to expect out of Butler, Spingler jokingly stated, "He needs to get our water on time!"
Weedsport has a big schedule this year, facing off against giants like Solvay and Tully, and also trying to tie up loose ends with Port Byron. The team members are quick to give credit to the coaching staff for getting them ready to play this tough schedule. Butler and Spingler said respectively about Coach Sgarlata, "We got the best coach in the league' …he's smart and his great defense back in the day is carried on to how the team plays now."
The coaching staff also features the talents of the new Weedsport physical education teacher, Mike Crosby. It's Coach Crosby's second year coaching the Warriors, and Kody Donahue says, "He will teach us new drills and broaden our scoring potential."
The team got off to a great start last night, defeating Fabius Pompey 62-31 behind 17 points from DeJohn. Make sure to get out and enjoy this team as they work toward another section title, and possibly beyond.