March Madness in Full Swing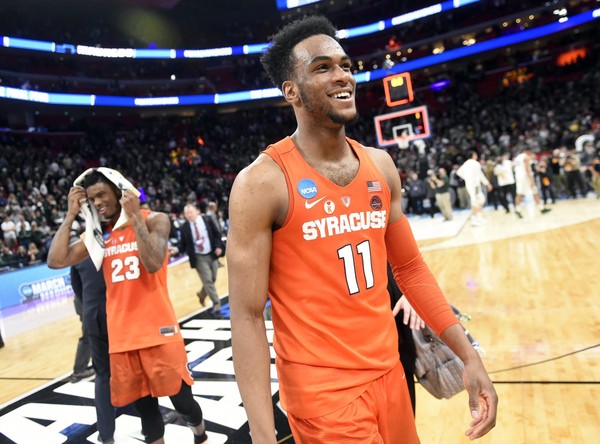 Tim Feocco, Staff Writer
March 23, 2018
The NCAA tournament is here and there are no clear favorites. Syracuse made the tournament, and most may assume that it'll be people's favorite but many believe that they didn't deserve to get in because of other teams around them that didn't make it. Oklahoma is also a team that just made it in and people weren't to happy about it.
The top 'seeds' are Virginia, Villanova, Kansas, and Xavier. Syracuse, though, showed people why they deserve to be in this tournament. They beat Arizona State in the first four to officially begin the tournament and then moved on to play TCU (Texas Christian University). They won against TCU and moved on to round 32 where they played the number 3 seeded Michigan State. Syracuse shot 35.7% compared to Michigan State who shot 25.8%. Syracuse had only 30 rebounds compared to MIchigan State's 51 rebounds. Syracuse won with the final score being 55-53. Syracuse kept Miles Bridges down to only 11 points, shooting 4-18 from the field. Miles Bridges averaged 17.1 points per game this season. Syracuse top three scorers were Tyus Battle with 17, Oshae Brissett with 15, and Frank Howard with 13. There were some major upsets in this year's tournament, the biggest being the number 1 seed Virginia losing to the 16 seeded UMBC (University of Maryland, Baltimore County). UMBC is the first 16 seed to upset a number 1 seed in the tournament's history.
This also happened in the women's tournament in 1998 when Harvard beat Stanford 71-67. Another upset is the 4th seeded Arizona losing to 13th seeded Buffalo. Arizona only shot 11.1% from the 3 point line and Buffalo shot 50% from the three. Buffalo hit 15 threes while Arizona only hit 2 three pointers. Buffalo shot way better than Arizona and won the game because of it. Another upset is number 1 seeded Xavier lost in the second round to the number 9 seeded Florida State. So going into the Sweet Sixteen two number 1 seeds are already out of the tournament, the only number 1 seeds left are Villanova and Kansas.
Some of the top games for the sweet sixteen are number 2 seeded Duke is playing number 11 seeded Syracuse. Another is Purdue and Texas tech because Purdue is a 2 seed and Texas tech is a 3 seed, so hopefully it will be a good close game. The number 1 seeds that are playing are Kansas and Villanova. Kansas plays 5 seeded Clemson and Villanova is playing 5 seeded West VIrginia. Villanova has the highest percentage to win the tournament with 16.10%, next is Duke with a 15.87% chance at winning, and the third team with a high percentage to win the tournament is Gonzaga with 11.93%. Syracuse has the lowest percent to move on with a 0.24% chance of winning the tourney.
The Johnny Green recently asked Syracuse fan, Mr.Corbin how he feels about the game coming up. He said "It is going to be close, tough game but I'm optimistic that S.U will win."
Syracuse plays against Duke Friday at 9:40 on CBS.