NHL Playoffs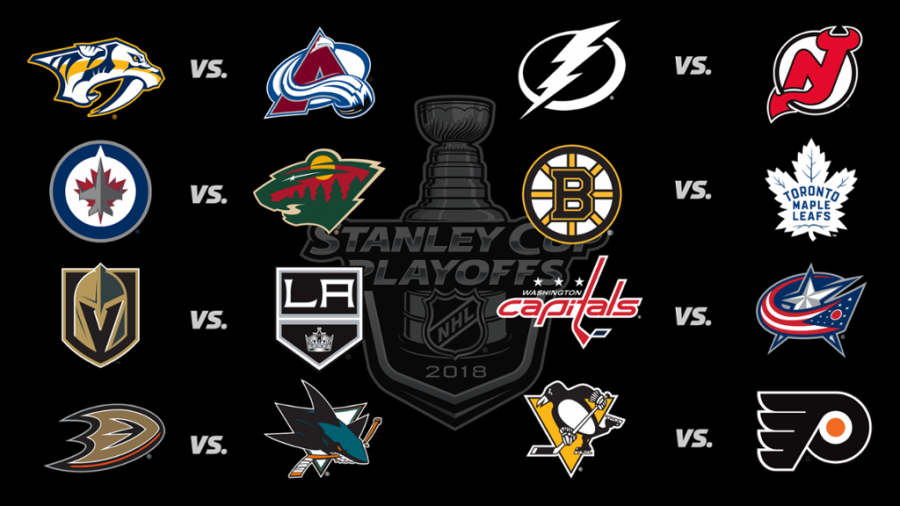 Tim Feocco, Staff Writer
May 3, 2018
The NHL playoffs have started and the first round is already complete. Nashville is up 2-1 against Colorado. Winnipeg is up 2-1 against Minnesota. The new team the Las Vegas Golden Knights swept the Los Angeles Kings. The San Jose Sharks swept the Anaheim Ducks. That is how the West has shaken out and the East is like this. The Tampa bay Lighting are up 2-1 against the New Jersey Devils. Boston is up 2-1 against Toronto. The Columbus Blue Jackets are up 2-0 against the Washington Capitals. Then Pittsburgh is up 2-1 against Philadelphia.
The Pittsburgh vs. Philadelphia is a great playoff series because they're two goods teams with some stars on each side. Another good series is Washington vs Columbus were Columbus is up which is making Capitals fans disappointed because they are the higher seed. A surprise in the playoffs are the Las Vegas Golden Knights who are a first seed and they swept the LA Kings to become the first team to sweep a team in the playoffs in their first season. The Golden Knights will play the Sharks in the western conference second round. The Penguins vs the Flyers, Sean Couturier, an important player on the flyers got injured in practice. The Sharks swept the Ducks and move on to the next round.
The second round of playoffs are about to be underway, so we'll have to wait and see for the results.