Varsity Boys Basketball Off to Hot Start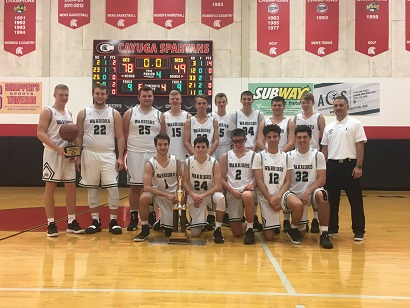 It's no surprise that the boys varsity basketball season is one to watch this year, folks! So stay tuned for what's ahead, because it's going to be good. The 2018-2019 season is far from over, and the boys are hungry for more. Coached at the varsity level by John Sgarlata and at the junior varsity level by Matt Lipiska, varsity is currently 9-1 overall and 5-0 in leagues at the time of writing this article, with little signs of dropping pace. On top of their phenomenal coaches, the team is also led by captains Max Horsford, Tim Feocco, and Max Powers; who have all done a great job of bestowing their knowledge and experience to the lowerclassmen while maintaining the top dog mentality the team needs when playing in high-pressure games.
The boys' most recent achievement came when they defeated Southern Cayuga 78-49 in the championship game of the 46th Annual Cayuga County Holiday Basketball Tournament, stretching their championship streak to three. It's also worth noting that all four of Weedsport's basketball teams won their respective championships, making it the first clean sweep in school history, so these young men have already made town history and their season is far from over.
Shooting guard Kelin DeJohn told Johnny Green staff, "Our season holds a lot of promise; we have a lot of talented guys who are willing to grind to pull out the dub, and it's shown so far." Adding, "The end of our season will be challenging, since we're playing some tough teams, and the boys are constantly putting in work to prepare."
So it looks like you're going to have to stay tuned to find out who exactly those 'tough teams' are in the eyes of DeJohn, so make sure you keep up with the team and get out to a game every once in a while to show your support. You can also look out for periodic updates right here on The Johnny Green. In conclusion, the season is still full of life and the boys are looking forward to seeing a prosperous year in basketball, and they have to potential to make it happen. Let's Go Green!