NHL on Its Way to the Emerald City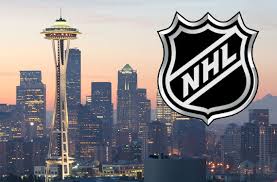 Tim Feocco, Sports Editor
January 15, 2019
The National Hockey League (NHL) announced they were holding a vote on whether or not to add a new team. The vote was approved on December 4th to add Seattle to the league. This helps even out the NHL, because before this they had 31 teams. Seattle is now going to be the newest team added to the NHL.
This happened not too long ago with the Vegas Golden Knights. They were created in 2016, and played in their first season in 2017-2018. Since then, they have done very well. Now with the Seattle team, they will most likely debut in the 2021-2022 season. They wanted to play in the 2020 season,but arena renovation plans push back the team's debut.
The team doesn't have an official name yet, but some people think they know what it could be. The first professional hockey team to play in Seattle was called the Metropolitans in 1915 to 1924, so some people think that this will be the team name, but there are also other team names on the possibility list for this new Seattle hockey team. Other possible names are the Kraken, Emeralds, and Totems. The team will be playing in Key Arena, which was formerly used by the Seattle Supersonics, but they left to Oklahoma City, so now the stadium is only used for the WNBA team, the Seattle Storm. The Storm has been moved over to a different venue for now because they are doing renovations with the arena to make it better for when the NHL team comes to play, and also to help with the Seattle Storm with a newer arena.
This new team will get its players the same way the Golden Knights did, and that is by an expansion draft in which it will pick players from around the league from other teams. The team will be members of the Pacific Division of the Western Conference of the NHL. What do you think about the new team? What do you think the team name should be?