The Rise of Esports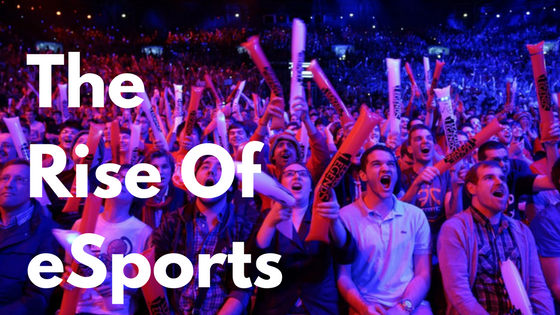 Tim Feocco, Sports Editor
March 12, 2019
Hang on for a minute...we're trying to find some more stories you might like.
Esports is a rising topic of discussion in the news and sports world. It is a competitive gaming league that has a huge amount of prize money. There are many games involved in the world of Esports. Some of these games are Call of Duty, NBA 2k, Overwatch, Fortnite and many more.
There are many Esports tournaments held around the world and they generate lots of viewers and lots of money. Fortnite had a winter royale tournament qualifier, and if you got the total points you would move on the next tournament which is a million dollar tournament. NBA 2k has their own tournament based off of professional teams that are actually linked with the Esports team. Some NBA teams joined in on Esports and have their own teams, for example, the New York Knicks have their own team and so does Boston and many other teams around the NBA. NBA 2k held their own draft in which these Esports teams picked individual players to play on their team to run in this season and try to win the 2k tournament. The prizes were published recently by Forbes Magazine, "The quarterfinals will be single-elimination play. The semifinals and NBA 2K League Finals will be best of three. The entire prize pool for the playoffs will be $600,000 and the NBA 2K League champion receives $300,000 of that prize. That means each player on the winning team could secure an additional $50,000 to go with their $35,000 or $32,000 salary, tournament winnings, housing, food, transportation, and endorsements." Players try out by sending NBA 2k their information on playing the game and their stats, and then 2k puts them into an evaluation process and then they have their second draft in which teams pick new players to represent them for the season. They also have announced that they have increased the prize pool to 1.2 million dollars. The second draft happened, and it involved 75 picks filled with new players and returning also they had the first women drafted to the Warriors Gaming.
    Another thing with Esports is there are teams for Esports like Faze and Optic which are teams that have gamers from different games competing for money. So, for example, they have gamers that play call of duty and then they have another group to play Fortnite and then they have players for CSGO.
    High schools are also getting involved. In the high school Esports league there is a preseason, regular season, and postseason, and then there is a state championship you play for. Then if you play in high school you could potentially earn yourself college scholarships. Some schools use these as clubs and they have tournaments on the college level. One college in New York, Suny Canton is the first in New York esports team to join National Association of Collegiate Esports (NACE) and competes with about 40 other colleges and universities in the Eastern Collegiate Athletic Conference (ECAC).