Grunge Rock's Greatest Icon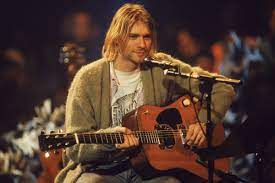 April 5th is a sad day in the history of rock. On that date 27 years ago, the world lost the greatest grunge icon in the history of rock music. Kurt Cobain from Nirvana died on that date of a self-inflicted gunshot wound. He contributed so much to music and inspired so many people with the lyrics in his songs. In case you haven't listened to much Nirvana, here are a few songs to get you started:
Smells Like Teen Spirit 
https://www.youtube.com/watch?v=hTWKbfoikeg
The most played Nirvana song of all time that people still sing out and embrace, Cobain himself hated the song because of how popular it was, all the kids would listen to it on MTV a billion times and have it glued in their heads without knowing other songs of Nirvana.
Where Did You Sleep Last Night 
https://www.youtube.com/watch?v=hEMm7gxBYSc
This song was a cover of original blues guitarist Lead Belly's "Where Did You Sleep Last Night" during their MTV Unplugged session in 1994 in NYC. Cobain joked around and announced during the session that the Lead Belly estate wanted to sell him Lead Belly's original guitar for $500,000. You can hear Krist Novoselic (bassist)  in the background jokingly saying that a donation basket is going around for the buying of the guitar. What really captivates the song is in the end when Cobain will scream in a sort of blues howl that will just bring you chills. 
Something in The Way 
Listen to this under-rated classic to get a sense of how talented Cobain is at telling a story.