KNOTFEST ROADSHOW: 2022 is the Year Of Slipknot!!!!!!!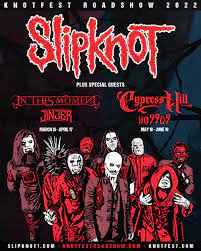 Even though the year just started, 2022 is already complete for my fellow metalheads at Weedsport – it will be another year with a tour for Slipknot!
The Knotfest Road Show 2022 is gonna be a huge two-leg tour of both the USA and Canada with several different guests in both legs of the tour.
From March 16-April 17th, Slipknot will be joined by guests: In This Moment and Jinjer. From May 18-June 18, Cypress Hill and Ho9909 will be joining Slipknot in the last dates of the tour. 
Sadly though, the closest area that Slipknot will play is Albany with Cypress and Ho9909. We all know that die hard Slipknot fans – including myself and hundreds, maybe thousands  more fans of Slipknot in Upstate NY – will drive thousands of miles to one of the greastest Nu-Metal bands  of all time.
Let's get ready: TO. JUMP. THE. *#*#. UP.       
Tickets will be on sale this Friday at 10 a.m. local time. Lets mosh!