Top Ten Thrifting Tips 
At some point, almost everyone will walk into a thrift store. Maybe you came to get something for an extracurricular or you recently saw some of the thrift hauls that have become popular over tik tok. It can be overwhelming: the bright fluorescent lights and the rows and rows of seemingly endless amounts of clothes. Thrifting is truly one of, if not the most rewarding way of shopping. This is the best way to get over that first hesitant feeling. 
1.Salvation Army vs Thrifty Shopper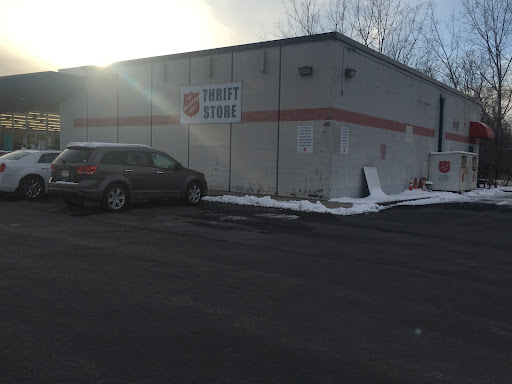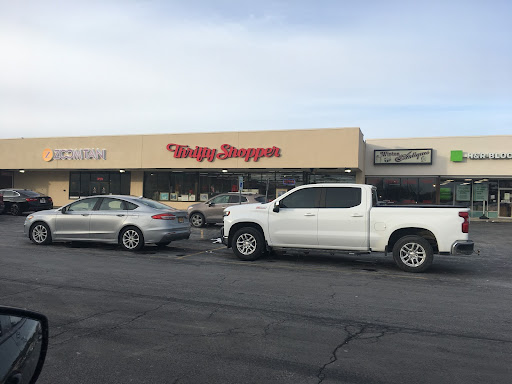 The best local thrift stores near Weedsport are The Salvation Army in Auburn, and The Thrifty Shopper in Baldwinsville. The Salvation Army is organized by color. This makes it ideal if you're looking for specific items like a black skirt or a green sweater. The biggest problem is you may find what you want but it may not be in your size because it's not organized that way. Thrifty Shoppers are organized by size which is nice if you're browsing and not looking for hyper specific things.
2. Go through the whole rack
Thrifting is extremely gratifying but it can be intimidating going through all the different racks. It can be a little draining when you go through so many clothes and you don't find anything you like. Thrifting is like a treasure hunt, it takes a lot of digging and when you finally find what you're looking for it's even more special. Sometimes you may question why this has rhinestones or why this sweater has cats but when you finally get through the whole rack you feel proud because you took the time to find something special to you. It takes a long time but you won't find anything if you just dart from thing to thing. 
3. Tag identification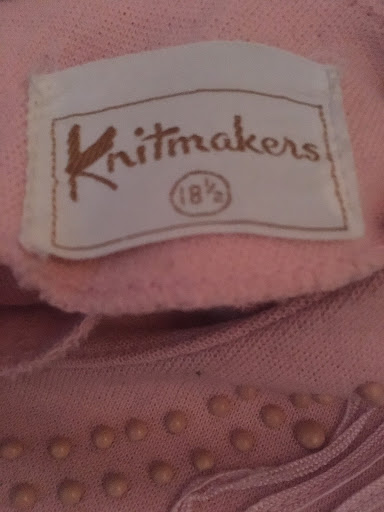 One of the best things about thrifting is the ability to find brands that you really love for cheap. Lululemon leggings can go for $118 but you can find it at a thrift store for $3 in really great condition. Buying vintage for cheap is also appealing to many. A lot of very old pieces are at thrift stores also. Every different decade has a different tag style similarly to how different decades of clothing has different cuts, shapes, and colors that were popular. For instance to date clothing from tags you can look for the copyright date, if there's a address without a zip code then its pre 1963, half sizes ( for instance 6 ½ ) 40s – 60s, lot numbers (will say lot with numbers next to it) pre 1979, odd number sizing (3,5,7, etc.) pre 1980, absence of care label post 1971, different fonts correlate to different decades. Reading tags to be able to see original/resale is also an important tool even if you're not interested in selling. All you have to do is google the brand and a description of the garment to find something similar (For instance Petite Sophisticate orange ruffle button down). If you still can't find it and you've never heard of the brand, look it up and you can probably find what decades they were most popular and can date it that way. Thrift stores also have colored tags. Depending on the week different colored tags can have a sale on them 
4. Don't overlook seemingly weird sections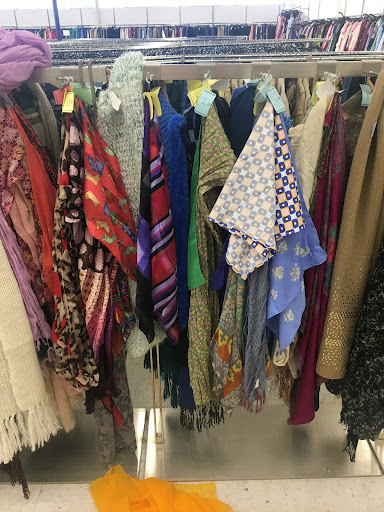 When people think of clothing they generally think shirts, pants, etc. People rarely think of pajamas, scarfs, and belts. The pajama section is understated because you can find fancy pajama sets or nightgowns for really cheap that you may not have seen a reason to buy before but if it's $5 why not buy it. Nightgowns can also be used for dresses if it doesn't look too much like pajamas. If it's too long you could always cut and hem it or you can belt to give it more shape. Scarves are often not utilized but they are very versatile and can be used for many different looks. From headbands to belts to ascots to room decor they are the perfect thing to have a few of. Belts are an item of clothing that you don't think about until you need it. Belts not only hold up your pants but they can be a statement piece to any outfit, used for blocking, or be used to tie in different colors. There also are a piece that will be worn a hundred times. Another section that is not generally associated with thrift stores is the knick knack section. It's perfect to find kitchen utensils, room decor, and just general useful items. It's one of the cheaper ways to decorate your room. 
5. Check for wear but don't shy from it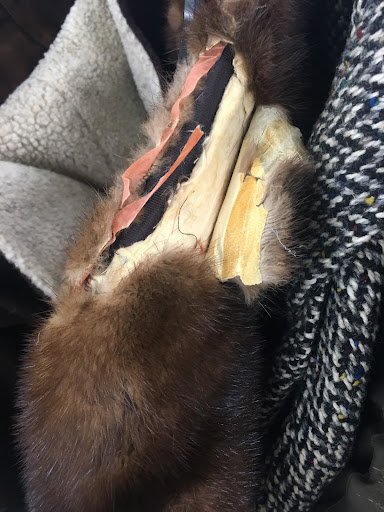 Odds are in used clothing there are going to be a few flaws like holes, stains, and missing buttons. It's important to check for these things but a lot of these things can be fixed or overlooked. Small holes aren't very noticeable and large holes can give a cool distressed look though always check the inner thigh part of pants because that is one place where holes are common and not appreciated. Stains are small and easy to get out in the wash or with different stain treatments. Missing buttons are always annoying especially when you already bought it and you didn't notice there was one missing. Buttons are really easy to sew and something that everybody should learn how to do. Another helpful thing to learn is how to hem something in case you want to make clothing a better fit. 
6. Know your measurements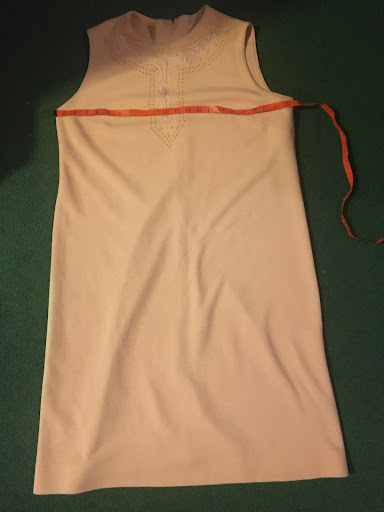 Clothing has a variety of cuts, cloths, and shapes that work well on all different body types and sizes. In some stores someone could be a small but in a different store they may be a large. Thrift stores have such a wide variety of brands where it can be hard to know your exact sizing. The easiest thing to do is to know your measurements. Things like pit to pit, bust, waist, and hip sizing are all important and simple measurements to take. To take your measurements grab a tape measure and measure the circumference of your body on the places listed above. I find knowing your measurements is best for online thrifting because they are most likely listed or you can ask the seller for the sizing. For in store shopping you can get the measurements by laying the piece flat and measuring the length on one side then doubling it.
7. Buy it knowing how to style it
Thrifting is a incredibly sustainable and environmentally friendly way to source you fashion. Sometimes when clothes are really cheap people have a tendency to buy things they don't know how to style or don't need. If you don't know how to style it, you are more likely not going to wear it. This can cause clothes to go into landfills or back into thrift stores. Don't buy something just because its trendy because you probably wont keep it long term. To prevent this I would recommend that you ask yourself questions like would I have liked this five years ago, will I like this five years from now, and how exactly would I style this? 
8. Don't be afraid to get something unique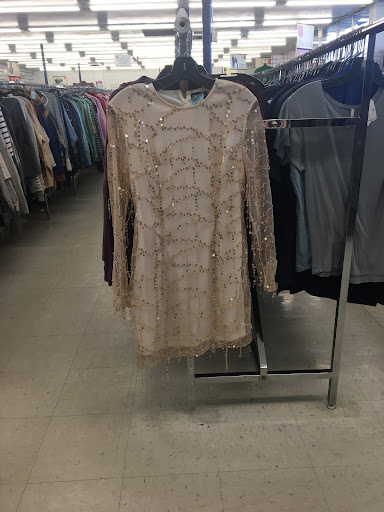 Thrift stores are known for its sometimes offensive to the eye fashions. From unnecessary glitter to downright unneeded ruffles things can get a little egregious. You can also find incredibly unique pieces that nobody else has. It's a hard balance but something that will make you proud to have found will mean more to you then a basic that has no meaning to it. No one really cares what you wear everyday so why not wear something you actually like. It doesn't matter what other people think as long as you wearing something that makes you feel good. 
9. Find personal style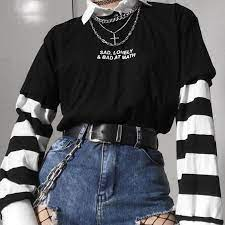 Generally all retail stores try to have some sort of aesthetic.For instance Urban Outfitters is known for its earthy, trendy wear.  At a thrift store there is no one aesthetic. This can make them challenging to get through but also perfect for finding personal style. Through the mass amount of clothing you can find any aesthetic or style of clothing. Look though Pinterest or Instagram and find what kinds of aesthetics you like. You'll probably be more clear headed and less stressed when shopping
10. Go in with a plan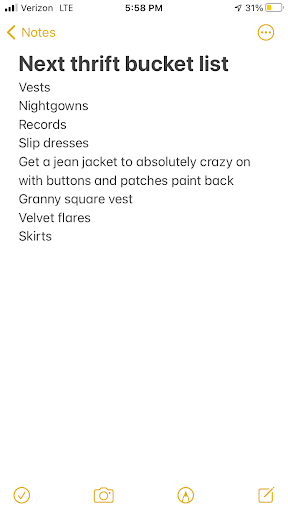 To help with the overwhelming nature of thrift stores and  to try to shop more sustainably it's helpful to come in with a list or at least a plan. Whenever you think of something you need/want, write it down in a list and reviste it when you want to go to the thrift store. This will help make the experience even more enjoyable. 
About the Contributor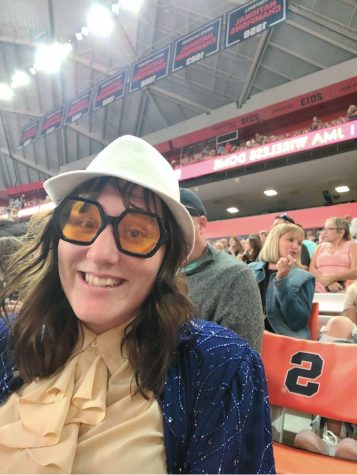 Adrihanna Collins
Adrihanna Collins is a junior who has been writing for The Johnny Green for two years. Her hobbies include reading and playing bass. Adrihanna plans to...