Lions Club Talent Show is a Success
This year, the Annual Weedsport Lions Club Talent Show put a new spin on the concept of "talent." Instead of the traditional singing and dancing acts that had been presented in previous years, a new element was introduced; game shows. Weedsport students and staff participated in four familiar games. In between each game, a different group from the music department performed on stage. The Notables, a group of talented elementary school kids performed a stunning cover of the song "Let it go." The middle school jazz band, Mrs. Woodworth's flute quartet, and the band Have You Heard wowed the crowd with their music.
The first game show called The Singing Lion (a spin off of Singing Bee) displayed lyrics to a song being played. When the song stopped, the contestants had to finish the lyric. Hosted by Mrs. Weston, popular songs were played by Mr. Franco.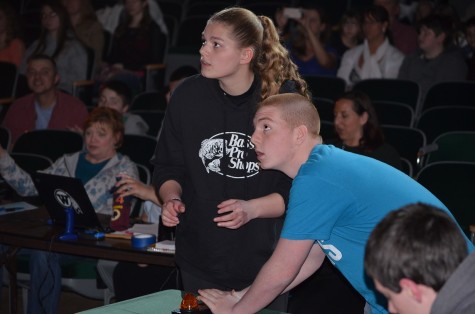 Sophomores, Noah Corrado and Jada Sterling, win The Singing Lion
The second game show, hosted by Mr. O'Conner, was Jeopardy. This was a Weedsport version of the game, featuring questions about Weedsport, the staff, and an entire category dedicated to Mr. O'Conner, himself.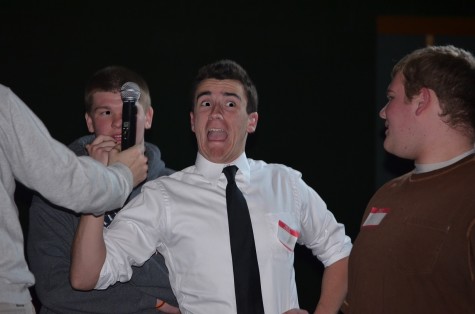 Senior, Dan Sears, gasps in horror as the junior team (Brandon Hall, Ciara Hunter and Sheldon Ryan) wins Jeopardy
The third game was Weedsport's version of Minute to Win It. The host, Mr. Ward, "made certain" to keep things comical with his various accents. Students had to take turns participating in challenging activities such as balancing a book on your head.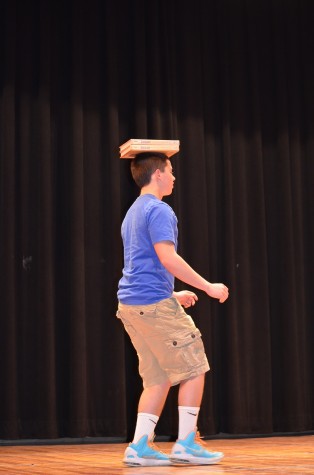 Junior, Kyle Powers, balances a book as he walks across the stage
The fourth and final game was Family Fued. Hosted by Mr. DiSanza, this game featured two teams of five; one completely made up of staff and one made of up students, grades seven through twelve. The student team made up of Zoe Wejko, Kristin Blumer, Lexi Appleby, Jada Sterling, Kenny Colella, and Kaitlyn O'Connell, came out victorious.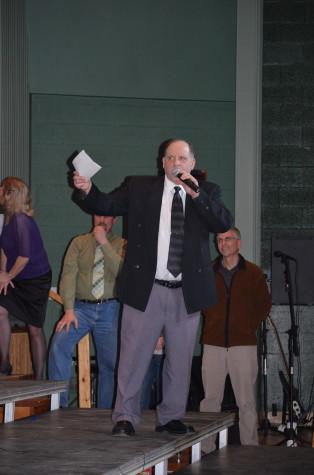 Mr. DiSanza is Weedsport's own Steve Harvey!