The Performance of a Lifetime
Mrs. Woodworth Inducted into the Weedsport Music Hall of Fame
The piercing lights, the chatter of the audience, and the jittery feeling of performing are all things former Weedsport Jr Sr High school teacher LauraWoodworth is used to. On Oct 25th, she took the stage at Weedsport High School for a curtain call.
Woodworth taught at Weedsport for 36 years. In 2020, she made the "very difficult decision" of retiring. On Monday Oct. 25th Mrs Woodworth performed and was inducted into the hall of fame of her former school. 
"I feel like it's a big honor to be inducted into the Weedsport Hall of Fame. It's a great award," said Woodworth. 
This isn't Woodworth's first time being awarded something for her career. She was awarded with Norma Metroka award in 1999 and 2020, and the COSBA (Cayuga Onondaga School Board Association) for outstanding high school teacher in June of 2017. 
"It's a big honor to be recognized for my career," said Woodworth.
Woodworth graduated from Cato Meridian in 1979. She got her Bachelor's Degree in music at Crane School of Music in 1983. She then got her Master's in music at Ithaca College in 1988. 
"I worked on a farm because I grew up on a farm. I worked at Cato Show Print. It's not there anymore, but it was a printing place. I subbed for a year and then I got my job at Weedsport. I subbed at Weedsport, Cato, and a little at Hannibal," said Woodworth. 
When the COVID-19 pandemic hit Woodworth made the decision to retire. 
"It was a very difficult decision. It wasn't how I envisioned it because I wasn't in school.  It was the right choice for me. It would've been easier to retire when there wasn't a pandemic because I would have been able to see all my students. I would be able to see everyone in person instead of doing a Google Classroom announcement," said Woodworth. 
Woodworth isn't alone in this feeling. Many students missed her and her teaching methods. Happily, Woodworth still teaches private lessons and substitute teaches. 
When asked about how Woodworth is in the classroom, Senior Reilly Montreal responded, "The (positive) effect that she has on not only me but all of her students. I would want her to know the way she teaches brightens the whole room and when she's with us we just get this immense joy." 
Woodworth also now does Auburn Civic band, the Skaneateles Community Band, a saxophone group called Cayuga Sax, and a ukulele/barbershop group called The Four Seasons. 
Though she is very busy in retirement she does admit she misses teaching at Weedsport. 
When asked if she had any messages for her students, she sat in silence with a nostalgic glint and then said, "I just want them to know that I enjoyed every minute teaching them and they were such a joy.  I loved standing in front of the band and chorus making music together. It was amazing. Everything was amazing."
Woodworth's concert on the 25th can be seen at the link below. Fast forward to the 24 minute mark to see her performance: 
https://ensemble.cayboces.org/hapi/v1/contents/permalinks/halloffameoctober2021/view
About the Contributor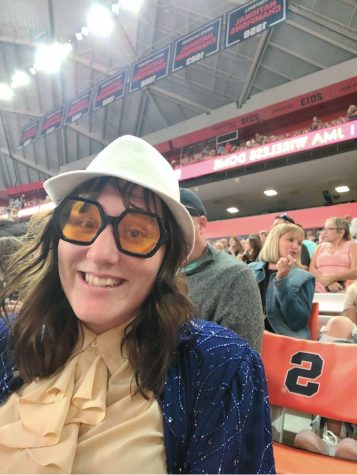 Adrihanna Collins
Adrihanna Collins is a junior who has been writing for The Johnny Green for two years. Her hobbies include reading and playing bass. Adrihanna plans to...