WarriorTV: On Air Soon
Return of weekly news broadcast highlights evolution of Weedsport journalism
The Johnny Green sat down with Ryan Adams, a member of the journalism class, and Mr. Hay, director of the Johnny Green, to find out what we should expect in the near future. New content is regularly being posted on the website and the students are bringing back WarriorTV (a weekly broadcast of school events and announcements). 
Started in 2007, this school publication has been bringing news to Weedsport in all different forms. The publication started as a printed newspaper but transferred online in 2011. You've also seen them in the form of the morning announcements, a popular morning segment a few years back. However, when Covid struck, the Johnny Green and WarriorTV took a step back. 
Although the set back was discouraging, this allowed for the website to come back with stronger and better content. Mr. Hay, the teacher behind the journalism class, hopes this new setup will have a stronger impact on the school's spirit. "WarriorTV is going to be fantastic and I think students will enjoy it," Hay stated. The school showed the project full support, supplying the class with new equipment, cameras, and Mac desktop computers. 
When asked what makes this year different, Hay said, "We have a clear vision of what we want the broadcast to look like. Most importantly, we have a fantastic group of students in the journalism class this year that are going to work hard and consistently put out an amazing product. The show will include a main segment as well as fun features that showcase school events as well as the community."
The students of the class have been working hard to get the news out and get students engaged again. "Our social media (particularly Instagram) is also going to be active with great content and some fun contests throughout the year. The student news website: whsjohnnygreen.org will consistently be updated with new stories and digital content, so make sure to check it out at least once a week," Hay said. 
Ryan Adams, a promising journalism student has been working behind the scenes on WarriorTV. When asked what drew him to broadcasting over the traditional form of journalism, Adams stated it's, "The ability to look at something from different perspectives and learn more about whatever you're filming." 
He has been working closely with Mr. Hay on the morning broadcast to create and edit different stories. "Hopefully [we'll make] some fun videos that people will like," Adams expressed when asked his hopes for the broadcast. Adams says he is most excited to work on editing WarriorTV when it begins. 
"I hope it will become an important part of the school culture and students will look forward to seeing it Friday mornings in homeroom," Hay stated. "My biggest hope, though, is that any students who are interested in being part of the broadcast (either in journalism class or on their own during 10th period) see me and bring their new ideas so it can evolve and get better every week."
The morning broadcast is scheduled to begin mid-March and run through the end of the school year. The show will be broadcast in homerooms on Friday.
About the Contributor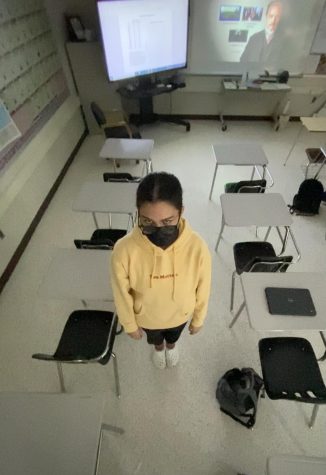 Mia Jeffries
Mia is currently a senior at Weedsport but is taking classes at CCC. She got into journalism due to her enjoyment of writing and creativity. This is her...