Au Revoir
French Will Soon Be Phased Out as a Foreign Language Option at Weedsport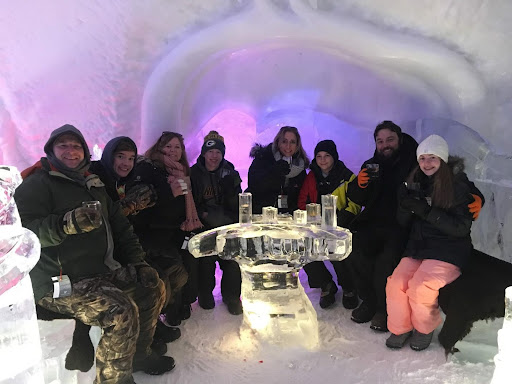 French has been a staple at Weedsport for many years, and when students think of the class, the first thing they think of is Madame Brown. However, the decision has been made that French will no longer be an option for future students. The Johnny Green sat with French teacher Madame Brown and Assistant Superintendent Melinda Ervay to discuss the language changes happening at Weedsport. 
Madame Brown has been teaching at Weedsport for 17 years. When asked what her favorite thing about teaching here was, she stated, "Sharing what I love to do with my "kids" and seeing their progress throughout the years feels like more of a gift than an "occupation". I really like that I get to work with the same students year after year. The small district allows me the opportunity to get to know my students and their families well inside and outside class."
Nevertheless, a change is coming to Weedsport as French is being phased out and Spanish will become the only language available to students. The news was disappointing to say the least, especially for Brown who put her all into teaching to her students. "I am thoroughly disappointed that students no longer have a choice as to which Modern Language they would get the most out of personally. It is the end of my career, and I will still have French students until just about then. For this, I am thankful. We are letting a lot of students down, there is still a significant interest in learning the French language."
Brown went down memory lane with us and shared some of her favorite moments from her time teaching at Weedsport. "It is the little things that seem to add up to big memories and even bigger smiles. I flashback to the snowman-building competitions, bocce ball tournaments and kickball games that the college French and Spanish classes organized. To see my hard-working students in a non-academic light is always an eye-opening experience for me," she said. "A memory that is standing out right now was when this one group of kids decided to "kidnap" my stuffed chihuahua and proceeded to leave ransom notes with pictures written in French everywhere I looked on campus. They sent me on a wild goose scavenger hunt to find him. It was so fun, and completely their idea. Dog sledding with my students who traveled to Québec City with me has always been a favorite experience as well! Our trips were so much more than just that, but they were a high point."
 This decision raises many emotions for students who have taken French and students who won't be able to in the future. We asked Brown how she thinks the decision will affect both current and future Weedsport students. "Students typically do better in classes that become meaningful to them and that they enjoy. We all have our own strengths…and for students who excel in foreign languages, I believe we are limiting their potential to becoming more marketable in the world of employment. Having more than one language in their credentials makes a person a much more valuable asset in the workforce," she said. 
We sat down with Mrs. Ervay to get a more logistical side to the story and how the decisions were made. When asked why the decision was made to cut the French curriculum, Ervay answered, "Over the past several years enrollment has gone down tremendously in French. We are at an advantage because the French teacher is also a certified Spanish teacher. Unfortunately in small districts you have to consolidate programs because of lack of enrollment, etc. Many schools in our area offer just Spanish because of that. So we decided as a team, working with the French department, that's how the future of the language program would be, not because we want to take away opportunities from students, but having Madame Brown also as a Spanish teacher we can really expand our Spanish program." 

Following up, we asked whether or not enrollment has seen an overall decrease in enrollment. Without having the hard numbers, she said there was a drop in enrollment most likely due to the shrinking of the school district in general. She said students also tend not to continue past the required language because of difficulty. "We really want to work on expanding opportunities to encourage kids to go to those higher levels," Ervay stated. 

The main problem was how the class was to be phased out and how it would affect students. Although the decision was introduced last year, the decision will not harm current students, Ervay said. More specifically, she states, "It was rolled out last year to our students that French 1 was not going to be available this year. However if you were a student that had already taken French 1, you will finish your french career all the way up through [French] five if you want to. There has been no implication on students who already started taking French last school year… So we're phasing it out over a period of 4 years."
With the end of French, comes a new era of foreign language, spanning from elementary school to college. While discussing the changes, Ervay brought up two different ways Weedsport is planning on changing language for the better. "With the phase out of French, we would love to see the expansion of Spanish down to the elementary school, just to start getting kids excited about it. Then on the other end, we just introduced the Seal of Biliteracy. This is an additional endorsement that you can get on your diploma. Basically if you are proficient in language, and it really can be any language, we mentor them to work towards this seal. It's kind of an independent project, you work with an english teacher and a language teacher to develop a presentation in that language, then  you present the project in that language to a panel.  The teachers on the panel will then ask you questions and expect you to respond all in your language. It's just another level of endorsement for college or just in your proficiency. So really expanding it both ways to the elementary up to graduations." 
On top of the changes in classes, a new Spanish curriculum was purchased to develop a richer and rigorous program for students. "We're really just trying to put resources and funding and curriculum work into the language program to develop it here in Weedsport," Ervay said.
French ends on a bittersweet note for both students and Madame Brown. She says that she enjoys working with Señora Wayne and plans to expand her own proficiency when teaching higher levels of Spanish. French will officially be phased out with the graduating class of 2025. As for Spanish, Madame Brown says, "Spanish is a language that is not going away. If our kids truly want to be successful and competitive, they need to understand that the world is becoming seemingly smaller. This means we have more and more opportunities to practice Spanish and to make ourselves understood. It is an important skill to have."
About the Contributor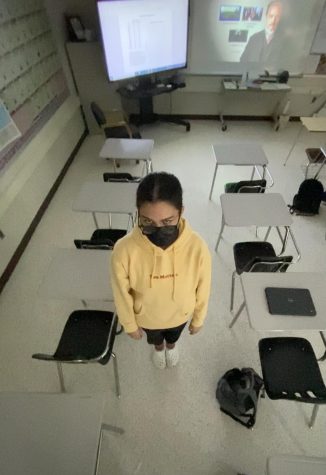 Mia Jeffries
Mia is currently a senior at Weedsport but is taking classes at CCC. She got into journalism due to her enjoyment of writing and creativity. This is her...