New In-School Coffee Shop Ready to Help You With Your Daily Grind
Cafe 40 Set to Open Soon and Provide Weedsport's Caffeine Fix
The Weedsport Jr. Sr. High School's new coffee shop, Cafe 40, will open soon for all of Weedsport's students and staff. 
The coffee shop plans to be open every Friday from 7:00 to 7:40 am by the back kitchen door near the seventh and eighth-grade wings. The coffee shop will be selling hot coffee, iced coffee, hot chocolate, and tea. 
"We are going to be selling three different types of coffee," said Cafe 40 Advisor Cara DeJohn. "The coffees are Jamaican Me Crazy. Nutcracker Sweet, and a Finger Lakes Blend. Those flavors are from Finger Lake Coffee Roasters…We will also be selling hot chocolate and tea (Green Tea and Black Tea)."
A 16oz hot coffee, hot chocolate, or tea will be $2.00. A 20 oz iced coffee with any flavorings (mocha, vanilla, and caramel) will be $2.50. Students can pay with cash or through the school's Venmo account (@WCSD-ExtraClass). 
Cafe 40 is named after Exit 40 which is Weedsport's Thruway exit. This name was chosen due to the potential retirement of the Weedsport Warrior symbol. 
"I had been hearing some chatter about the Warrior logo… close to 60 people put in a name through the vote we did around school … a lot of it was Weedsport Warrior (related)… When talking with my kids in my marketing class, we decided to stay away from that knowing that we might not be able to use it at all. So we chose Cafe 40," said DeJohn. 
DeJohn wanted to start the coffee shop to allow students to earn job skills. 
"…It gives students an opportunity to learn business skills, possibly get a new job, and improve on their overall communication skills," said DeJohn. 
DeJohn also says that students should buy from Cafe 40 instead of Weedsport's leading coffee provider – Dunkin Donuts. 
"First of all, it's not as expensive as Dunkin. Our goal is to avoid anyone being late by going to Dunkin…They will be able to get their coffee in-house. It's good coffee so why not?… I hope that students see it as a positive way to be involved in school…" said DeJohn.
Another positive thing DeJohn is starting is a card that gives teachers the ability to reach out to students through free coffee. 
""… The teachers will be getting cards so if a student is doing a good job in their class or they want to reward a student they can purchase a coffee for that student and that student can get a free coffee," said DeJohn. 
The plans for the coffee shop include an entrepreneurship class dedicated to running the coffee shop and a more permanent location for the coffee shop. 
"… I would like to have a class that is an entrepreneurship course. It involves an opportunity for students to run the coffee shop fully through the class. They would be required to work at the coffee shop on the day it's open. They would be in charge of ordering, managing, etc. The class would also be about them creating their own business… I would like to get a more set place for it (the coffee shop)… There's a coffee shop in Waterloo (at the high school) and they have a whole area with high-top tables where students can just drink coffee and chat…I'd love for there to be a place like that in our school," said DeJohn.
About the Contributor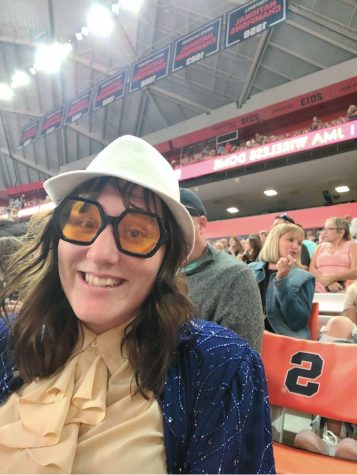 Adrihanna Collins
Adrihanna Collins is a junior who has been writing for The Johnny Green for two years. Her hobbies include reading and playing bass. Adrihanna plans to...