How to Prepare for a Job at Micron
Microchip Plant Will Create Largest Economic Boost in CNY History.
With the opening of the new Micron plant in 2026, which will create 9000 jobs directly and 40,000 indirectly, many students will have the opportunity to be employed by Micron. Here are some ways students could potentially prepare for this job opportunity. 
Background
In October 2021, Micron decided to build the largest computer memory chip plant in the nation in White Pine Commerce Park in Clay, New York (near CNS High School). The factory will run 24 hours a day and they will need both individual technicians and machine operators to work all that time. The plant is estimated to cost $100 billion which is the largest single private investment in New York ever. 
The complex will be about 7.2 million square feet with the nation's largest clean room space which will be about the size of 40 football fields.
There will be four separate semiconductor fabrication plants that will be built in phases on a 1,300-acre site. The first project would employ 3000 and will cause $20 billion and will start in the latter half of the decade, approximately 2026. 
The plant will create fabs – or chips made of silicon wafers with integrated circuits that will power things like computers, phones, and other electronic devices. 
Jobs will include assemblers, fabricators, maintenance and repair technicians, electricians, engineers, trade skill workers, business administrators, marketers, and computer specialists. 1000 of both technicians and engineers will be utilized to run the plant. Construction workers will be needed to build the plant for the next 20 years. 20% of the jobs at Micron will go to people without college degrees. Substantial hiring will begin in 2025. Salaries are averaged to be around $100,000 a year.
How to Prepare for Micron During High School
Mrs. Bradtke, Guidance Counselor for grades 9-12 recommends students who are interested in working at Micron should take business classes, tech classes, the graphic design class, BOCES, and advanced Math and ELA classes because some of the jobs at Micron require college degrees. 
Many tech classes are available for students to take at Weedsport Jr. Sr. High School, but Weedsport Jr Sr High School Technology Teacher Brian Gates recommends his Design and Drawing for Production (DDP) class and the Engineering and Robotics class. 
The DDP course consists of designing something using both physical drawings and CAD (Computer Aided Design) software. 
"We use Autodesk Inventor to draw some parts and then we produce them with 3D printers. It gives them (the students) the opportunity to go through the process…" said Gates. 
The Engineering And Robotics class is another class that Gates cites as almost directly applicable to Micron. 
"…Having an engineering background is helpful. As far as the robotics side of it, creating those microchips all comes from automation. They use machines to do the work. Microchips are so small that no one could physically do the work…Programming a machine with a computer is what you need to do to build these microchips," said Gates. 
Though Weedsport Jr. Sr, High School Business Education Teacher Mrs. Dejohn doesn't have any specific class recommendations, she did say that her goal is: "To provide students with exposure to various business industries within our upstate NY region through field trips and guest speakers. I believe there is great value in having experts share with students specifics about their trade or job. In each of my core classes, Career and Financial Management, Marketing, Business Law, and Entrepreneurship,  I look for opportunities that will further enhance what the students are learning in the classroom.  I really feel that when students are provided with these types of opportunities they will be more inclined to ask questions and dive deeper into learning more about a specific career."
Since Micron will be looking for trade-skill workers, BOCES would be a great opportunity for students to develop both hard and soft skills that will apply to Micron. According to Bradtke: Computer Systems and Network Administration, Construction, Applied Electrical, Graphic Design and New Media, and Machining and Welding will most likely be the best programs for this line of work.  
Computer Systems and Network Administration is where you learn about, "…coding, putting together and taking apart a computer, learning how to communicate with a computer, and large system networking," said Bradtke. 
Construction will be useful for both the actual building of the Micron Plant but also for the maintenance of the factory. The same can be said for Applied Electrical. 
Graphic Design and New Media would be helpful for people who would want to go into marketing or business administration. The curriculum consists of, "Designing websites, designing promotional materials, and putting together events," said Bradtke. 
Machining and Welding is a program that Bradtke cites as being something that will be "big" at Micron because, "There will be using a lot of big machinery and communicating with machines to build the chips."
Making a Plan For What To Do After High School
There are many different degree requirements for Micron. There are positions requiring a variety of degrees including a high school degree, a one-year certificate, an associate degree, a bachelor's degree, or a master's degree. Experts in the industry say that people with a 4 year or graduate degree will be making substantially above average and people with less than four year degrees will be making $60,000 to $80,000. Anastasia Urtz, provost and senior vice president at OCC said students with two-year degrees will have more opportunities for promotions quicker than those with one-year certificates. The engineering jobs will require 4-year degrees and up while the technician jobs won't 
Onondaga Community College (OCC) will be partnering directly with Micron to make new programs, revamp old programs, organize internship opportunities, and make a cleanroom on campus because OCC will be the closest community college to Micron. The new programs include degrees in Supply Management, Construction Management, Architectural Design Studies, Welding, and HVAC (Heating, Ventilation, and Air Conditioning). These degrees are hoping to start this fall. 
OCC is also planning on combining its Electrical Technology and Mechanical Technology into both a two-year degree and a one-year certificate because both of these skills will be needed at Micron. The program will include learning how to communicate with automated devices in manufacturing, how to program and use typical industrial systems, and how to utilize hydraulics and electricity to work function and motion in machines. The one-year certificate will only touch on the foundations of the above skills. 
A $100 million cleanroom helped funded by Micron is being built at OCC. A cleanroom is a room used in the electronic industry that has an extremely low concentration of particles like dust. They are isolated, well-ventilated, and often cleansed. The microchips will be built in these cleanrooms and therefore workers will have to be trained on how to work the machines that make the microchips in a clean room. 
The cleanroom will be located where the bookstore is now and will be one of the first buildings prospective students see when touring the campus. 
In the clean room, students will learn the basics of how a clean room works and how to work in it. There will also be a locker room area for students to learn how to put on clean suits. 
Workers in the cleanroom at the Micron plant will have to wear a clean suit for ten hours. If that doesn't interest you, Micron will also need Process Technicians to oversee the production process of the cleanroom without actually having to go inside it. 
OCC isn't the only school offering courses related to the job fields at Micron. Suny Polytechnic is offering a Mechanical Engineering degree that would apply to Micron. The school also plans to have field trips to Micron once construction is over and production is running. 
Syracuse University's College of Engineering and Computer Science plans to expand student enrollment by 50% over the next three to five years to help provide Micron with talent. The college already has 2,450 students both graduate and undergraduate but with the new increase, there will be an extra increase of up to 1,225 students. 
Center State Ceo, which is a Syracuse-based business leadership and economic development organization, plans to improve its Pathways to Apprenticeship program that helps many locals, especially the underserved and unemployed, get a job in construction. This training can help people get a job at Micron. Training for the program includes basic construction skills like how to read blueprints. So far 65 people have gone through this program since its opening in 2021.
Overall, there are many great opportunities for high school students at Micron and many opportunities to earn the skills for this line of work. 
About the Contributor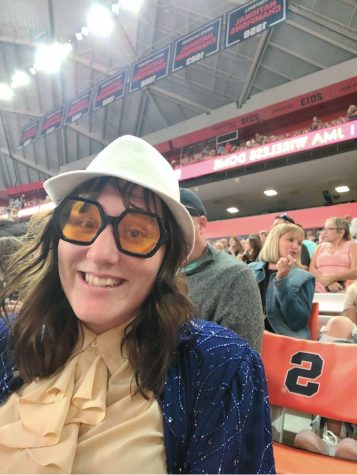 Adrihanna Collins
Adrihanna Collins is a junior who has been writing for The Johnny Green for two years. Her hobbies include reading and playing bass. Adrihanna plans to...