Turkey Day Traditions
Weedsport Students Discuss Some of Their Favorite Thanksgiving Activities
Everyone has their favorite holiday, whether it's Christmas, Halloween, or maybe even New Year's. Once Halloween finishes people often get super excited for Christmas. Although Christmas is a great holiday most people skip over Thanksgiving.
Thanksgiving is a super important holiday, it's important to settle down in all the chaos and think about all the great things around you.
People rarely talk about what they do for Thanksgiving or their special family traditions. Today I sat down with some Weedsport students to ask them some questions about their Thanksgiving. 
Lily Komarisky said she had a very unusual Thanksgiving tradition, "Every year my brother and I, after we eat, we take it to the kitchen table and we arm wrestle and then each of my grandparents places bets and whoever wins gets all the money." Lily also wanted to make it very clear that her least favorite Thanksgiving food is green beans. 
Peyton Demaio had a strong reaction when asked her about her Thanksgiving food opinions, "My favorite Thanksgiving food is mashed potatoes, my least favorite is that cranberry stuff."
"Every single year, me, my mom and my sister Emma bake pies. My sister is always on the cherry pie, I'm always making the apple pie and my mom is always baking little cookies and desserts," said Ayla Stark.
Mallory Brown's favorite Thanksgiving tradition is going to her grandma's and eating mashed potatoes. This is Mallory's favorite tradition because, "I like to spend time with my family, and her mashed potatoes are delicious."
Thanksgiving is a super important holiday and an amazing time for everyone to gather around, eat some food and have a great time doing their favorite traditions. 
About the Contributor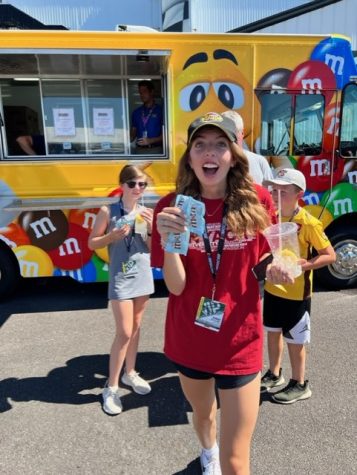 Olivia Quinn
Olivia Quinn is a junior at Weedsport. This is her first year of journalism. Olivia loves writing and learning about new things, and she wants to share...