Skillet's Album Rise Shows Growth of Band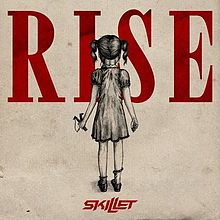 You might wonder what happened to Skillet. That band who have been around since 1996, with their first album Skillet? Also, with that Christian background?  Yeah, them, and they are STILL making music. Their most recent album, Rise, came out in June of 2013.  They may be old, but they still make some great music. Rise, containing hit songs "Rise" and "Sick of It," are still the Skillet sound you love, with the distortion guitar of Korey Cooper and Seth Morrison, and the hard drum beat of Jen Ledger.
Rise may not be as "old but gold" as 2006 album Comatose to some people, but it's still got the same nice sound as Comatose. After drummer Jen Ledger joined the band in 2008, at just 18 years old (not even having her license yet), they were able to add a female voice to hit songs "Monster," "Hero," and "Never Surrender," in the album Awake.
Their new album, Rise, is a concept album, the first one they have ever done, as a band together.  A concept album is a, "a rock album featuring a cycle of songs expressing a particular theme or idea," (From en.wikipedia.org). The entire album starts out with the first song, "Rise." John Cooper, the lead singer and bassist, said in a podcast, that this song explains what people, centered towards teenagers turning to adulthood, that they are going through a war, or family problems. Rise has a great John Cooper and Jen Ledger voice duo.
They then add in an interlude, or an unique transition, to the second song, "Sick of It," with the distorted guitar in the beginning, and the hard drum entrance. "Sick of It," shows a person saying, "I've had enough, I'm going to get through this, I'm done with the taunting" etc. Basically, it's a motivational song.
They then transition into the third and fourth songs, "Good to Be Alive," and "Not Gonna Die." These two songs, have a person, that is happy to be alive, as the title says, and they will not take life for granted, seeing the other worldly problems that society is facing. When "Good to Be Alive" comes in with the strums of the guitar, with repeated snare hits, almost like in a concert band. After the song ends, they go to "Not Gonna Die" which enters with Korey Coopers excellent string programming, and with a nice violin part.
They then move around a little bit on the album, and the person that this album is centered towards is realizing how messed up the world really is. They move into the song that guitarist Seth Morrison loves, "Circus for a Psycho." It comes in with a small high-hat part on the drums, then a challenging guitar solo, that any guitarist would love. It carries through most of the song, and says that this world is most likely a circus, that goes crazy almost every day.
Skillet then goes into their Christian side, and the person who is listening, finds out what they really need in life. Skillet explains that with songs "Salvation," "What I Believe," and "Hard to Find."  Salvation is the first main Jen Ledger voice song. The only time John Cooper will come in, is the chorus. "Salvation" has a nice electronic drum part, and piano part, to add into Ledger's voice. After that song, they then go to a different song, "What I Believe," with a hard string part and guitar that enter into the song. "Hard to Find" comes in with a piano, and a little bit of echo drums with a synthesizer. They, like the other two songs, are saying that whoever they may believe in, they have faith, when faith can be hard to find.. All three songs: "Salvation," "What I Believe," and "Hard to Find," are almost like an oath, saying that they still believe even when times get rough.
To finish off the album's story, they have three  songs come in. They have "Fire and Fury," along with "My Religion," and "American Noise."  The song "Fire and Fury" comes in with some piano chords, for a couple seconds, then John Cooper comes in singing, after a couple more seconds, Jen Ledger comes in singing with a hit on the tambourine. "Fire and Fury" or "F&F" as some people may say, talks about going out into the world, not isolated anymore, and using their newly found strength. Metaphorically,  "I will burn, I will burn for you, with fire and fury, fire and fury!" (From songmeanings.com). They would be able to fear nothing, and stand up to anything. In "My Religion," the person also goes out into the world, but they still claim, that they still believe. The song comes in with a guitar/bass riff, with the bass, and snare drum playing in the background. John Cooper then comes in, and claims that whoever is his belief, that he is still with him. Then, finally, to finish out the album, they come in with the song, "American Noise." With the interlude before, it has the noisy sounds of the world. It almost sounds like you are standing right in the middle of New York City. Then, a door will shut, and the person getting away from the sound, sighs and goes to the computer, types in 'American Noise' and the song then comes on. John Cooper says every noise you could think of. Some of them being: "Angry Words, and Honking Cars. Satellites and falling stars…" "American Noise" shows that, even through the noise, we can break through it, and stand up to what we believe in.
The songs in the album, are not as stated above, this is how the actual album would go:
Rise

Sick of It

Good to Be Alive

Not Gonna Die

Circus for a Psycho

American Noise

Madness in Me

Salvation

Fire and Fury

My Religion

Hard to Find

What I Believe
If you would want to listen to the "story" of the album, you might want to listen to the album in this order:
Rise

Sick of It

Good to Be Alive and Not Gonna Die*

Circus for a Psycho

Salvation, What I Believe, and Hard to Find*

Fire and Fury, American Noise, and My Religion
*These songs don't matter the order. Just make sure you get to all of them.
After listening to this album, I can easily give this album a 4.5 out of 5.0 stars. There are some things that bug me, but overall the album was excellent.
Also, after listening to Skillet's new album, Rise, I can proudly say this: My name is Ben Grieco, and I am a Panhead.