The Capitol Attack and Inauguration: What Happened and Why it Matters
The Johnny Green's Mia Jeffries Discusses Her Thoughts on the Recent Historic Events in D.C.
Inauguration 2021: A Day of Hope Following Weeks of Turmoil
"This is America's day. This is democracy's day. A day of history and hope, of renewal and resolve. Through a crucible for the ages, America has been tested anew. America has risen to the challenge." – Joe Biden. On January 20, 2021, Biden became the 46th President of the United States at an inauguration like no other. 
Exactly two weeks after the insurrection, Biden was sworn in at the Capitol. For the first time in presidential history, the previous president, Donald Trump, decided not to go to Biden's inauguration, taking Air Force One as a part of his military send-off. In his inaugural speech, he acknowledged the divide in our country stating, "We must end this uncivil war that pits red against blue, rural versus urban, conservative versus liberal. We can do this if we open our souls instead of hardening our hearts." 
He also spoke of the racial divide that was shown earlier in 2020. He has already made steps to correct the mistakes and divide of the past four years, including halting the border wall construction, lifting Trump's ban on transgender people serving in the military, and reversing the Trump administration's attacks on the Affordable Care Act. 
With performances from Lady Gaga and Jennifer Lopez, one of the most important and memorable ones was from Amanda Gorman, a young poet laureate who spoke to the country on Wednesday. Only 22 years old, she delivered a poem titled, "The Hill We Climb", where she spoke of her dreams for racial equity during such a trying time. "The hill we climb if only we dare it's because being American is more than a pride we inherit, it's the past we step into and how we repair it," -Amanda Gorman. 
Kamala Harris was sworn in as the Vice President of the United States, breaking many barriers. Kamala Harris is the first woman, first black, and first Asian Vice President this country has ever seen. When reciting her poem, Gorman shared a powerful line saying, "We the successors of a country and a time where a skinny Black girl descended from slaves and raised by a single mother can dream of becoming president only to find herself reciting for one." With all of the trouble that we have faced in recent years, on January 20, people around the world got to watch from home on Wednesday as history took place and gave children hope that anything is possible.
My View on These Historic Events
On January 6th, a group of right-wing Trump supporters stormed the Capitol building in Washington D.C. This occurred after calls for Congress to reject the President-elect, Joe Biden's victory were denied. This insurrection (uprising against the government), was incited by Trump, after repeatedly perpetuating the narrative of a fraudulent election. This led to former President Trump's impeachment, making him the first president to be impeached twice.
This mob of right-wing activists soon turned violent, overtaking the police and storming the Capitol where Congress and former Vice President Pence and his family were quickly evacuated. This desperate attempt to secure former President Trump's second term left four people dead and multiple police injured. These tragedies could have been avoided, however, when offered the chance, Trump resisted calling in the national guard, releasing a video onto his now-banned Twitter account stating the rioters were "very special" to him and they should "go home in peace", but by this time, it was too late.
A story was later released of Officer Eugene Goodman, a black man who bravely fended off a mass of rioters inside the capitol building alone. A video later released by a reporter, shows Goodman realizing that he and the group were right outside of the Senate chambers, and using himself to lead the protesters away ultimately saving the lives of the Senate and the rioters. 
In a photo captured, the building that represents the democracy of our country was truly symbolic of the division this country has faced over the past four years. The hatred that the Trump administration has spread throughout both parties was at a boiling point on Wednesday, putting our entire country in the public eye. The childish nature of our former president is also shown through the entitlement that these rioters felt to commit domestic terrorism (committing terrorist acts on your civilians to push a political agenda) without the fear of punishment. 
This event has been broadcasted all across the nation, and when talked about, many seem to be brought back to the protests for black lives that occurred this summer. Countless people have pointed out how differently this would have gone if the protesters were of different skin color. Overall, this tragic reminder of the hate in our country should never have happened.  It is yet another stain of this country's history that we can never live down. 
About the Contributor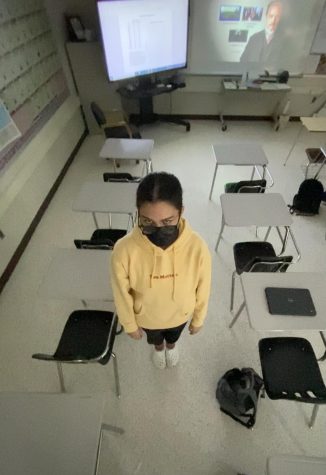 Mia Jeffries
Mia is currently a Junior at Weedsport. She got into journalism due to her enjoyment of writing and creativity. This is her second year doing journalism,...