Arby's Biggest Sandwich or Biggest Flop?
The Johnny Green's Ashton Collins Reviews the "Arby's Meat Mountain"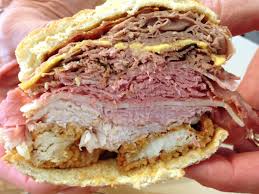 All fast-food restaurants have memorable sandwiches or foods that make the places successful – from the Big Macs at McDonald's to the tacos at Taco Bell. But, the one sandwich that has made Arby's the talk lately is the Meat Mountain sandwich that is stacked so high with the meat of chicken tenders, apple bacon, and roast beef, turkey, and steak. 
So the quest started to find this sandwich to see if it is truly the biggest sandwich.  I went first to the Arby's in Weedsport, but unfortunately, they didn't make it there which kinda infuriated me because you're Arby's and you're supposed to make the sandwich in any Arby's. So I continued on my quest to the Arby's in Auburn, and I made a phone call and they said they made the sandwich so I waited a long time in the drive-through for the sandwich. I achieved the sandwich and opened the wrapper then all of a sudden,  I'm in disbelief it was just like the size of a regular roast beef sandwich or smokehouse brisket at Arby's, and the overall cost was 14 dollars for just stacks and stacks of meat and two slices of cheese the size of a regular sandwich. I could go to the Downtown Deli in Auburn behind the Arby's and get a roast beef that would be worth it for 14 dollars. Arby's could just put the Meat Mountain on the menu, not hide it away because it's not a mountain at all. Arby's should just mark it down for 5 dollars no way in God's green earth it's worth 14 dollars.  
Arby's should come up with something else to draw people to eat there because I was not impressed with the Meat Mountain sandwich. Find something bigger and taller, make something into a food challenge, be creative, not just come out with a repetitive sandwich.