Weedsport Alumna Aubrey Ouderkirk Prepares for Life in the Classroom
Weedsport alumni Aubrey Ouderkirk recently came back to our school as part of her observation requirement for the education degree she is earning from SUNY Geneseo. While the school might have looked the same to her, she came to realize that some things have changed in the last three years. 
 "I do think Weedsport did a good job of preparing me for college. The transition was definitely hard due to Covid, but other than that, I felt very confident entering my freshman year."
It has been a stressful three years for all of us, and Ouderkirk (who graduated during the first year of the Covid Pandemic) definitely had to deal with the Covid stress as she transitioned to college life.
"Covid made it incredibly difficult to transition between high school and college. My freshman year, you weren't even allowed to have anyone in the dorms. It was difficult trying to meet new people. I ended up getting really close with some of my suitemates and still live with one of them now in my junior year!" 
She had a number of options after a successful high school career but ultimately chose SUNY Geneseo.
"I chose Geneseo after visiting the campus and falling in love with it. It's a pretty small college town. I love the community."
Ouderkirk has had a passion for teaching ever since high school. She's focusing on English and loves to work with children. 
 "I'm an adolescent education major with a concentration in English. I grew up surrounded by educators and felt drawn to the profession. I love working with kids and English has always been a passion of mine."
She greatly appreciates her English teachers from high school and learned a lot from them. She came back to Weedsport for her observation because she knew she could learn even more from the English teachers at Weedsport.
"I knew that there were teachers at Weedsport that I could learn a lot from. I deeply respect all of my English teachers from high school. Mrs. Weston, Mr. Hay, and Mrs. Austin made me realize I had a passion for English and teaching. I cannot speak highly enough about our English department." 
Ouderkirk is very excited about teaching but also has some concerns about the future of the profession. She comes from a family of educators so she knows what to expect in the classroom. 
"I mentioned it briefly before, I grew up around educators. My grandmother was on the Board of Regents for NY State. My mother is a Pre-K teacher. I'm looking forward to being able to connect with the kids and build a safe space for them. I'm definitely concerned about the repercussions of Covid on the education system and the students within it. Teacher burnout is very prevalent. There's much more to look forward to than to be concerned about for me at this point."
About the Contributor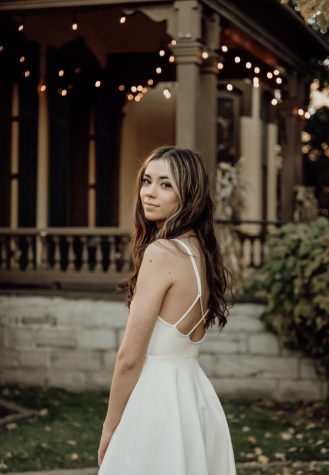 Kylee Rae Feldman
Kylee Rae Feldman is currently a senior at Weedsport. It's her first year doing journalism. She likes to write and wants to try something new. She plans...