Between Angels and Syracuse: Rockzilla Tour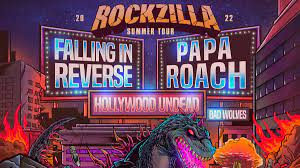 Tuesday afternoon, Papa Roach and Falling in Reverse announced a co-headline summer tour with supporting acts Bad Wolves and Hollywood Undead. The tour will be called called Rockzilla.  Tickets are on sale now.  The closest date in the area will be August 4th at the St Joseph Amphitheater in Syracuse. There are no other Upstate NY dates. 
Papa Roach, Hollywood Undead, and Bad Wolves just got off the road together during a spring tour of the country, and will now link up with Falling in Reverse in the summer. 
Here is a link to more information: https://blabbermouth.net/news/falling-in-reverse-and-papa-roach-announce-rockzilla-summer-tour-with-hollywood-undead-and-bad-wolves
If you aren't familiar with all or some of the bands, here are a few links to their hits to get you hyped up for this summer. 
Last Resort- Papa Roach 
https://www.youtube.com/watch?v=t2Q6qQ-JORg
Kill The Noise- Papa Roach 
https://www.youtube.com/watch?v=FVLUKUiJ_XQ
Popular Monster- Falling in Reverse 
https://www.youtube.com/watch?v=zAvjZMZ9-To
Zombified- Falling in Reverse 
https://www.youtube.com/watch?v=JupeiwHO13U
Zombie (Cover) (Orig by The Cranberries)- Bad Wolves 
https://www.youtube.com/watch?v=7wWoBjem98A
Sober- Bad Wolves 
https://www.youtube.com/watch?v=3osVKqSTBrQ
Hear Me Now- Hollywood Undead 
https://www.youtube.com/watch?v=pHaTluDJzzs
Lion- Hollywood Undead