Tyler Ennis, Gone So Soon?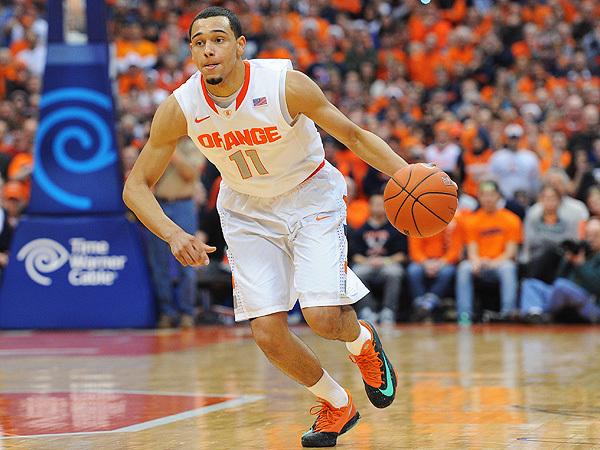 Tyler Ennis, the phenomenal freshman from Canada. He plays for Syracuse University, not very far from our town. Also known as "Ice Man," he does great under pressure, making many "buzzer-beater" half court shots. (If you don't know what I mean, go look at the SU vs. PITT game, so you can see for yourself.)
While Ennis is a freshman, he packs talent that could easily be mistaken for a Senior player. However, he has a great supporting cast. From Junior, Trevor Cooney, to Senior C.J Fair, they were one of the top ranked teams in the nation.
Ennis is a team player, unlike other outstanding Duke Freshman, Jabari Parker (who is officially entering the 2014 NBA Draft). You don't see Ennis scoring 20 plus points per game and having no assists or blocks.
What you do see is, Ennis, with a total of 20 assists and blocks, also 15-20 points as well. He excels with a team…individually, not so much. Sure, Ennis will break out a nice drive to the hoop, but he will also easily give off the ball, like previous Syracuse player, Mookey Jones.
In the NBA they look for individual talents, not team players. They want to give multi-million dollar contracts to the players who will score more than forty points in a game; winning games with scores like 120- 115.
I do believe Ennis will be a top draft pick, along with Parker and Fair (who are also in the draft), but will not make it very far. He's going to be like Syracuse Legend, Gerry Macnamara. He is going to play a couple years in the pros, realize he can't make it, and then go to play international basketball in Europe, Japan, etc.
As Syracuse Orange fans, we all wish him the best in the NBA Draft, and eventually the actual league. We also with Jeremi Grant and C.J Fair well too. We hope to see them prosper, and maybe make millions of dollars. And who knows… maybe make it into not only the Syracuse Orange Hall of Fame, but the NBA Hall of Fame.