A Look Back at the NFL Draft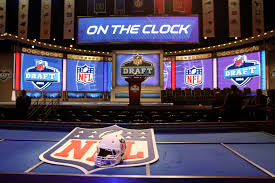 Tim Feocco, Staff Writer
May 23, 2018
The NFL Draft happened recently and there were some big players being drafted in the NFL. The number 1 pick was Baker Mayfield from Oklahoma, and this was different because this draft class had a lot of quarterbacks. The day before the draft many thought it would be Baker, and it was, but other quarterbacks like Sam Darnold, Josh Allen, Josh Rosen, and Lamar Jackson went too. Baker went first overall, Sam Darnold went third to the New York Jets, Josh Allen went seventh to the Buffalo Bills, Josh Rosen went tenth to Arizona Cardinals, and Lamar Jackson went thirty second in the draft to the Baltimore Ravens. They traded up to get him.
Another big draft pick is Saquon Barkley who went second to the Giants. Fans will be happy, as he had 1,271 rushing yards and 18 rushing touchdowns. The Buffalo Bills got a good quarterback, Josh Allen, they also got Tremaine Edmunds with the sixteenth pick. He is a linebacker from Virginia Tech. A big draft pick in the 5th round is Shaquem Griffin, who doesn't have a left hand since he was 4. He got drafted to the Seattle Seahawks, which his twin brother is on that team. He was born amniotic band syndrome, which means he had soft tissues in his fingers. When he was younger he planned to cut off his fingers because of the pain they brought him. His parents then scheduled to get his left entire left hand amputated. He then worked to play college football at UCF. He was first-team all-conference choice in 2017. He had a team-high seven sacks and 74 tackles. He was then drafted in the 5th round to the Seattle Seahawks and now will play football with his twin brother once again.
Back to the Buffalo Bills; they traded Tyrod Taylor to the Cleveland Browns, which made the Bills open for a new quarterback. So they traded up with the Tampa Bay Buccaneers to get the seventh pick in the draft. They then picked Josh Allen. Josh Allen had controversy before the draft when he was in high school he posted racially offensive tweets. This stuff resurfaced right before the draft and some people believe it pushed his draft stock down. The Bills would draft him with the seventh pick on draft night. Another New York team, the Jets picked Sam Darnold with the third pick. In 2017 He had a 63.1% pass completions for 4,143 yards and 26 touchdowns. The New York Giants got Saquon Barkley, who will join with Odell Beckham Jr and Eli Manning to have a good offense for the Giants. Saquon is very athletic and posted a 41 inch vertical jump and a 4.4 40 yard dash. He finished off the year with 204 yards and two touchdowns on 25 carries against USC in the Rose Bowl.
Another pick that was a surprise is Lamar Jackson going all the way at the end of the round to the Baltimore Ravens. They traded up to get the pick from the Philadelphia Eagles. In his sophomore season, he got the Heisman award and would be a finalist in his junior year only to lose it to the first pick in the draft, Baker Mayfield. In his sophomore he also got the Davey O'Brien award and Maxwell award and also he got the ACC Player of the Year. Jackson set a school record with 1,571 rushing yards as a Quarterback. When he was going into the draft, many people thought he should switch positions to wide receiver because he was fast and didn't have the most accurate throws in college, but he decided to stay at quarterback. Many people compare him to Mike Vick because he can run the football so well and throws it like Vick and has the overall same playstyle as him. On NFL.com they listed the top 5 most valued rookies. Saquon Barkley, Denzel Ward, Quenton Nelson, Roquan Smith, and Derwin James are the five rookies that are most valued.
Denzel Ward is going to the Browns with Baker Mayfield as the Browns look to have a good year hopefully. He went fourth overall and is a cornerback. He is compared to Marshon Lattimore, who won Defensive Rookie of the year, so this is a good comparison for him showing that he has a bright future. Derwin James went seventeenth to the Chargers, he is a safety that fits there defensive scheme in Los Angeles. Quenton Nelson is an offensive guard who went to the Colts. Roquan Smith is a Linebacker who went eighth overall to the Bears.
Overall this was a pretty good draft class this year and look forward for this NFL season with these rookies.