The Future of SU Hoops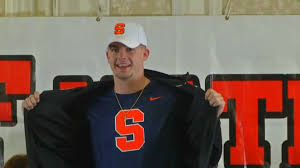 Syracuse Basketball has a bright future ahead of them with new young guys coming and solid guys staying in Syracuse to continue their basketball careers. Some of the new young guys that are committed to Syracuse are Brycen Goodine, a shooting guard who is ranked as a 4 -star, Quincy Guerrier, a small forward who is also a 4-star. They also have a 3-star center that went to IMG academy named Jesse Edwards, another 3-star combo guard they have committed is Joe Girard who is also the leading scorer in New York State history and he also averaged 50 points per game, so he will be one to watch next season.
Syracuse also added another 3-star center, John Bol Ajak. Some of returning players to Syracuse are Jalen Carey, Buddy Boeheim, Elijah Hughes, Marek Dolezaj, and Bourama Sidibe. Oshae Brissett could possibly come back from the combine but nobody knows his status yet on whether or not he is going to the NBA.
Both Oshae Brissett and Tyus Battle were both invited to the G-League Elite camp which is pretty much a combine for people who are lower on the draft stocks that get the chance to work with some G-league scouts. Then from that camp, they would pick 10 people to send up to the NBA combine for them to showcase their talents on the bigger stage. Oshae Brissett is one of the ten players to be sent up to the combine. Some older Syracuse players were also at the G-league camp. They were both from the team during the 2016-2017 year, John Gillion and Andrew White.
The Johnny Green Interviewed Jake Hickok about Syracuse Basketball and its potential next season. We asked, What do you think of the Syracuse recruits coming in next season? "I believe that Brycen Goodine and Quincy Guerrier can be instant impact guys, especially Guerrier, who is a good shooter and slasher, but I think that Joe Girard, Jesse Edwards, and John Bol Ajak will struggle to make an impact in their freshman year."
We then brought up the question about if he thinks Syracuse will do well in the long run? "It all depends on how the returning players like Eli Hughes and Jalen Carey can develop, I think they can succeed if they adapt and develop their offense to their above average three-point shooting."
Then we moved on to the NBA Draft and asked if he believes if any of the Syracuse players will get drafted? "I believe that Brissett has a better chance of getting drafted because he is younger and has a higher ceiling than Tyus Battle."
We then just asked about what he thinks about other Draft prospects. "This year's draft class is fairly weak compared to past classes, I believe that Zion Williamson is overrated and will need to develop a jump shot to succeed at the next level; and I hope my team, the Lakers, take De'andre Hunter from Virginia, as he will be a future star in the NBA."

The Johnny Green then asked these same questions to Mr.Carr. We asked him about his thoughts on the new recruits coming to Syracuse. Mr. Carr said this about them, "I think SU has a solid recruiting class for the upcoming season. There's a reason to be excited about this year's group, especially with Girard, Goodine, & Guerrier – 3G!"
Then we added if he thinks Syracuse has a good future. "I am optimistic about SU hoops for the next several years. I think an advantage of not getting the best of the best is that our players ought to stick around for more than 1 season. This should benefit the program in the long run."
We then brought up what he thinks about the Syracuse draft prospects. Mr.Carr responded this about Tyus Battle and Oshae Brissett. "I think both will be selected in the second round of the NBA draft. They are high character guys with enough talent to make an NBA roster."
Then talking about the draft we asked him about the other prospects he is looking forward to seeing play in the NBA. "I don't know a ton about this year's draft prospects, but I am certainly looking forward to the draft to see where Zion & the rest of the big names land. I'm hoping for lots of player/pick swaps to add to the drama."
So with that Syracuse fans around New York are looking forward to the next basketball season and in hopes of Syracuse going far in the season.