The Bad Batch Arrives on Disney+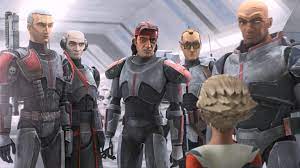 As many Star Wars fans, such as myself, are aware, on the classic "May the 4th," Disney+ released the first episode of its newest Star Wars series – The Bad Batch. Currently, the streaming platform features three well-known Star Wars series.
The first of which was the Cartoon Network 5-season show (which happens to be my favorite show) Star Wars: The Clone Wars, surrounding Jedi Knight Anakin Skywalker and his padawan apprentice Ahsoka Tano, an original character created in the series, and their exciting journeys in the Clone Wars between the Republic and the Separatists. The show gained a sixth bonus season with its debut on Netflix and a seventh, conclusive season three months into the series' position on the platform.
Star Wars: The Clone Wars was followed by Star Wars Rebels a little over a half year later. The show chronicled Ezra Bridger's endeavors becoming a jedi among a band of heroic rebels during the reign of the Empire.
The last of three major series is The Mandalorian. The Mandalorian made its successful debut on Disney+ in late 2019 for its well-written episodes and, of course, the adorable "baby Yoda." Its two seasons boasted over 1 billion watch minutes along with a Critics' Choice Award, SAG award, and multiple Primetime Emmy wins.
With such popularity for Star Wars television on Disney+, Disney officially ordered a new original series in July 2020, featuring the "Bad Batch" clone trooper squadron shown in Season 7 of Star Wars: The Clone Wars, simply naming the show Star Wars: The Bad Batch. In the new series, the group of genetically unique "clones" navigates a new galaxy far, far away following Order 66 and the formation of the Galactic Empire.
From the first episode, it is clear to this Star Wars superfan that this series will be a real "zinger." As the story answers questions while evoking memories of the show's true predecessor Star Wars: The Clone Wars, the viewer develops a quick passion for the Bad Batch and its newly introduced member Omega.
I, for one, am deeply looking forward to the next fifteen episodes of the newest original series from Disney every Friday, Wandavision style.